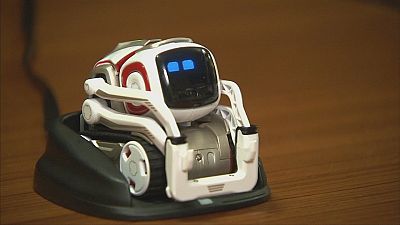 A new palm-sized robot looks set to become a favorite toy, equipped with a cheeky personality and hopes for a possible future entertainment franchise. Cozmo
,the microbot armed with sensors, motors and visual capabilities and controlled by a smartphone, is the latest product from San Francisco-based robotics startup Anki.
Anki Cozmo Robot. Hot new tech toy! https://t.co/uvyDhhpW5ipic.twitter.com/J9gR7QSytB

— stargazer00 (@stargazer00) August 27, 2016
Boris Sofman is the Anki CEO:
"Cozmo's very sophisticated, there's almost 300 components that go inside of him, lot of computation, sensors, motors, he has a camera which he uses for computer vision to understand his environment, so as a character, he's like this little robot buddy of yours, but he's like a little newbie who starts out very basic".
If it looks like a Pixar character, that is because Cozmo, out in October and priced at around €160, was inspired by the empathetic bots seen in animated films such as 'Wall-E' and co-designed by a former Pixar animator.
Boris Sofman continues:
"Every relationship he builds is tagged to each unique person so he'll recognize your face and respond to you everytime you play with him, he's almost like a puppy where he'll have an engrained personality and an unique relationship with everybody in the household. Over time, he'll recognize what games you like to play, what you don't like to play, how you interact with him and he'll tailor himself to that."
Thanks to the new Software development kit, researchers might even decide to connect Cozmo to other artificial intelligence engines. Eventually, as hardware continues to improve, bots like Cozmo will be able to use artificial intelligence like deep neural nets without needing to stay constantly connected to huge data centres in the cloud.
So, Cozmo is a toy for the present and the future.