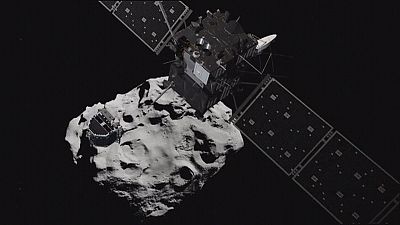 The extraordinary mission of ESA's Rosetta spacecraft around comet 67P is nearly over: on 30 September the craft will crash land on its surface and end a 12 year voyage through space.
Ingredients regarded as crucial for the origin of life on Earth have been discovered

Deputy Head of ROSINA
After almost two years of scientific analysis of the comet, partially supported by the lander Philae, Rosetta has gained new insights into what it consists of.
Ingredients regarded as crucial for the origin of life on Earth have been discovered Martin Rubin said, the deputy head of Rosina, the Rosetta Orbiter Spectrometer for Ion and Neutral Analysis, one of the 11 instruments aboard Rosetta.
"We found different molecules, especially organic molecules, we did not know they were also on comets. Amino acids are one example, there were also different hydrocarbons. Another example is molecular oxygen, the same as the one we breathe here on earth. We found a lot of it on the comet, though there is no life on the comet," he said.
Scientists have long claimed that water and organic molecules could have been brought by asteroids and comets to Earth, delivering some of the key building blocks for life, the so-called Panspermia theory. It states that the seeds of life exist all over the Universe and can be carried through space by bodies such as comets.
"We have studied the water on the comet and it turns out actually that this type of comet cannot have brought all the water we have on Earth, but only a small contribution. There are other comets where the water is more compatible," Rubin said.
By collecting gas and dust from the comet, it was possible for ESA scientists claim that its water is not the same as Earth's. However, Rosetta discovered other important elements.
"Once it was assumed that comets could have brought water to earth. But water also comes with other materials such as organic matter, organic molecules… And that's what makes comets interesting," Rubin said.
Rosetta is to complete its mission in a controlled descent to the surface of the comet on 30 September
The spacecraft will be so far away from the sun that its solar power will be significantly reduced – and this will affect its instruments – but it will still be gathering data. "During the landing we will keep on doing measurements with the sensors and we hope to find many new molecules and components," Rubin said.
In grand finale, ESA's Rosetta spacecraft to land on comet Sept. 30, then turn itself off. https://t.co/p6J7Pit31xpic.twitter.com/5kx8ijGBT7

— Spaceflight Now (@SpaceflightNow) July 3, 2016
During its final descent Rosetta will be able to gather some very high resolution images of what is a very distant solar body.
"From a scientific perspective, it is very interesting for us to get closer to the comet. We hope to find elements that we have not discovered so far. The closer to the source we get, the more of these rare molecules we catch. And we still hope to find some others," Rubin said.
Rosetta will begin changing its trajectory in August by starting a series of elliptical orbits that will lead it progressively nearer to the comet. The impact will take place at a speed of 50 centimetres per second, nearly half the landing speed of Philae in November 2014.
And even though Rosetta will then forever lie inert near the lander Philae on comet 67P, more scientific findings will be made for many years, thanks to the huge amount of data the craft has sent to Earth since 2014.