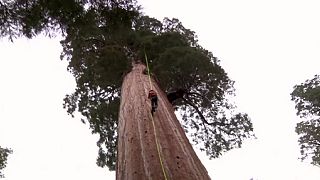 California's Sierra Nevada Mountains host the biggest and oldest sequoia on Earth, some close to 100m tall and up to 3000 years old.
A team of about a dozen expert tree climbers volunteered for an expedition, organised by the Archangel Ancient Tree Archive, to retrieve genetic samples.
The group believes planting forests of cloned mega trees will help to fight climate change.
Good job sad that we need this RT YukaYoneda</a>: Archangel Ancient Tree Archive is Cloning Trees <a href="http://t.co/AyLcBh52Ei">http://t.co/AyLcBh52Ei</a> <a href="http://t.co/gNrZXyftgF">pic.twitter.com/gNrZXyftgF</a></p>&mdash; Scott (CyberScooby_10) September 8, 2014
Tim Smit, is the founder of the Eden Project:"I think the replanting of trees, major trees, around the world is absolutely crucial as one of the constituent parts to mediating the impact of climate change."
Giant sequoias are huge, not only in height, but boast a girth of up to 7 or 8 m making them ideal for absorbing greenhouse gases, such as carbon dioxide, that drive climate change.
They can live for three thousand years, surviving wildfires, droughts and disease.
The director of the Archangel Ancient Tree Archive is Jacob Milarch:
"So we feel that maybe there's something special in those genetics that could help resist the changes of climate change, global warming, things like that. We feel like if it's lived for 3000 years, maybe their genetics is something special there."
Climber Jim Clark has been collecting the tips of young branches.
Later the cuttings are delivered to the Archangel's Michigan laboratory where the samples are planted in nutrient-rich containers: "What we have here are the clippings that we took from the very top of the Sequoia tree. We went out to the very tips of the limbs and harvested this material," explains Jim Clarke a cloning specialist.
Archangel Ancient Tree Archive redwoods and sequoia babies headed out west! #hugatree#savethetreespic.twitter.com/JAoSw7Sr

— Meghan Morelli (@MeghanMorelliTV) November 27, 2012
The samples grow beneath purplish fluorescent lights in humidity and temperatures designed to encourage rooting.
Despite the tightly-controlled conditions, most won't survive.
But the ones that do take root will grow indoors for several years before they're ready to plant.
Jim Clarke continues:"It's a biological miracle that this piece of tissue that came from a 3000-year-old tree can be rooted and we have a miniature 3000-year-old tree. The genetics stay true. The genetics don't change. This little tiny tree will be exactly the same genetically as the mother tree"
One skeptical voice comes from Todd Dawson, a professor of integrated biology at the University of California, Berkeley.
According Dawson it is unclear whether cloning and planting a limited number of trees will cool the warming planet.
He is more in favour of a more direct approach as curbing the use of fossil fuels and protecting vast rainforests:
"The pace at which the climate is changing right now is faster than any time in past Earth history. And so, we have to be thinking about very rapid solutions. And a slow growing tree may not be able to keep up with the pace at which the Earth is changing right now"
However there is no disagreement over the value of planting and protecting big trees. Moreover, for these arborists doing nothing is not an option.
Later this year the Archangel team will plant up to 1000 sequoia and redwood saplings in a cool, damp region of Oregon (Western US) where the trees will have the best chance to grow.
Archangel says they have already cloned 170 species and planted about 300,000 clones around the world.