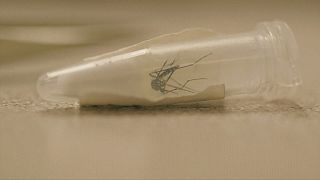 Researchers are testing a smart mosquito trap they hope will help better track the spread of the Zika virus.
The device is designed to trap specific types of mosquitoes, and collects data on the time and weather at the moment they're captured.
It's part of Microsoft's "Project Premonition", which aims to detect infectious diseases earlier, before they reach densely populated urban regions, to better prevent outbreaks
"The idea of Premonition is to use a mosquito as a device that can go out and sample blood and then from that mosquito, we can try to understand what pathogens it might have encountered," said Ethan Jackson, who leads the project.
"So the technologies we needed to build go all the way to how do you catch a mosquito to how do you get it back to a lab, to how do you analyze it."
Ethan Jackson is using machine learning to help mitigate disease before an outbreak ever occurs. https://t.co/wp1eRhwXMl

— Microsoft (@Microsoft) June 21, 2016
The device uses an algorithm to identify which kinds of mosquitoes to trap based on the way they flap their wings. Microsoft also plans to use drones to place the traps in remote areas, which would save both time and money.
"Project Premonition started from the observation that emerging infectious diseases are very difficult to predict, dangerous to societies and expensive. So the vision is can we make them more predictable? If we get it right, I hope the answer to that is yes," said Jackson.
"I hope that we can predict emerging infectious diseases before they surprise us, as we saw in the past with something like Ebola, as we see now with something like Zika."
The current Zika virus outbreak in Brazil has been linked to severe birth defects in hundreds of babies and has spread across the Americas to more than 50 countries.
The virus is expected to reach the US mainland and parts of Europe in the coming weeks as the weather warms.
Map of European Region shows which countries at high, moderate, low risk of #Zika virus spread pic.twitter.com/DeV8WQW5Zf

—

WHO

/Europe (@WHO_Europe) May 18, 2016