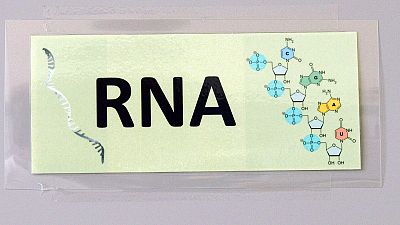 The potential of DNA for breakthroughs in healthcare is well known in the scientific community. Now researchers believe its sister, RNA, can help the human body develop its own treatments against cancer and other conditions.
At research facilities in Tübingen, Germany, scientists are working to unveil the secrets of "messenger RNA", an elusive molecule.
Messenger RNA
Mariola Fotin-Mleczek, a biologist at CureVac GmbH says it has the capacity to help the body cure itself: "Messenger RNA is a fascinating molecule. You could say it was designed by nature to be a therapeutic agent. It provides a sort of construction scheme for our cells and, according to this scheme, human cells can produce any kind of protein."
"This protein doesn't have to be of human origin. It can come from pathogens, bacteria or viruses, meaning the messenger RNA molecule can be used as a therapeutic agent to great effect. The immune system learns to recognise that the protein comes from a virus or a bacteria alien to the human body and so develops an immune response.
"We don't modify the RNA in a chemical way. We learned from nature and just look for natural elements that we can insert into the RNA so that we can improve the characteristics of this molecule".
Mighty Molecule
The biomolecule has a huge potential, the researchers say. It can be used to develop new immunotherapies against cancer, or prophylactic, stable vaccines against infectious diseases, as Florian von der Mülbe, another biochemist involved in the research, explains: "The main advantage of the production of RNA is that we are talking about a platform. We can always use the same production procedures, independently from the molecule we are aiming at.
"Either a vaccine against cancer, or a prophylactic vaccine, the production process is always the same. The only thing that we change is the information we provide to the process."
In 2014, the research concept received the EU's first ever Innovation Inducement Prize, aimed at European innovators seeking to deliver breakthrough solutions to specific issues.
Prostrate cancer treatment
The scientists are now looking ahead at the potential of this platform and believe the outlook for new treatments for illnesses such as prostate cancer is promising.
"Research has provided us with the starting point," says Ingmar Hoerr, CEO at CureVac.
"From there, we can now move on to very different domains. It is almost limitless. We can explore so many different things, we can go in so many different directions. Now, the question is how to translate that into products that can be useful to society. When can we start delivering drugs to the market?
"We are currently performing clinical trials on prostate cancer patients. The first steps towards authorisation seem promising. If these studies are really conclusive, it will mean we are relatively close to our goal of marketing a first drug based on our technology."
Other immunotherapies against lung cancer and the development of prophylactic vaccines that don't require a cold chain during transport and storage could soon follow.