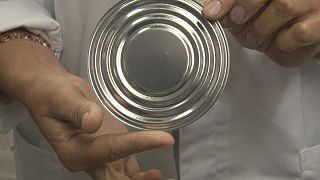 Every year Europe's tomato industry produces around 200 thousands tons of waste consisting mainly of skins, pips and fibers. Researchers in a European project are trying find out if this material can be used in an ecological and economically viable way.
At a tomato processing plant near Parma, in Italy, around 2,200 tons of fresh tomatoes are processed and packaged every season.
Some 4 per cent of the raw material ends up as waste and is partially used to produce biogas.
But managers at the Parma factory have more ambitious plans, as vice-president Aldo Rodolfi explained: "At the moment we are working with researchers on how to use this waste in different ways. We especially want to use it for the packaging of food products".
To that end, scientists from a European research project have become very specialised cooks.
Their aim is to obtain cutina, a natural polymer present in tomato skins.
Cutina can replace some chemical compounds currently used in the varnish that lines food cans, protecting the produce. Researchers believe it is just as efficient.
"Our goal is to be able to produce a varnish with the same technological, hygiene and sanitary characteristics as existing standard varnishes. We are looking for an inert substance, with no smell and no taste so it does not affect the food product inside the can. And we also need a waterproof varnish, so that the food product is not in contact with the metal of the can," explained Angela Montanari, a chemist with the SSICA/Biocopac project.
Natural cutina is mixed with other products to produce the bio-lacquer. At a factory which produces around 15,000 tons of food-protecting varnish per year, tests have been carried out on the industrial capacities of the new bio-lacquer.
The properties and production methods are identical to standard varnishes, but the final product is somehow visually different said Luca Cioni, Innovation Manager at Salchi Metalcoat SRL: "Tomato cutina is slightly dark. The varnish we obtain from it has a certain colour, slightly golden. That is good if we need colored varnishes, because in some cases we won't need to add further colorants. But to have a totally transparent varnish, we'll have to do more research".
At another test site in Thessaloniki, Greece, 120 million tin food cans are produced each year. The new bio-lacquer has been tested here in a real production environment. The factory managers say their customers are eager to invest in more environmentally friendly food packaging, provided costs are reasonable.
"We don't know if the cost will be higher. But I'm sure that when we produce it on an industrial scale the costs will be significantly lower and I think it will eventually match the costs of existing lacquers," said Nikos Kiouros, a mechanical engineer at National Can Hellas.
Angela Montanari, a chemist with the SSICA/Biocopac project believes bio-lacquer will be commercially viable: "Our research suggests this new bio-lacquer could come on the market, in significant quantities, in at least two and a half to three years."