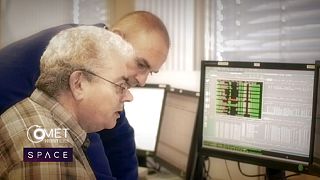 This summer, the Rosetta spacecraft aims to orbit a comet and then put a lander on its surface. The comet hunting team in Darmstadt will be at the controls.
Rosetta has been preparing for the crucial part of her cosmic journey for some time but now the team is at an important phase, because they have started the manoeuvres needed to approach the comet.
Paolo Ferri, the Rosetta mission director at the European Space Agency (ESA) said that this was only the beginning: "The coming months are going to be much busier. We will have to start flying around the comet. Nobody's done that before, so while we're doing it we'll have to learn how to fly."
Next month, Comet Hunters gets inside your TV to find out how the world watches the World Cup.