EU obsessed with cutting migration 'regardless of human cost', report claims | #TheCube
Comments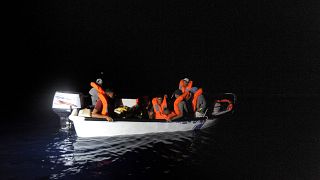 Europe has failed to find a 'sustainable response' to this summer's migration crisis, instead attempting to reduce the number of arrivals "regardless of the moral, legal and humanitarian consequences", researchers claim.
A new paper published by Oxford University's "Border Criminologies" unit, given exclusively to Euronews, has poured scorn on the EU's handling of the issue this summer and called into question Europe's reliance on the Libyan Coast Guard in place of rescue ships run by non-governmental organisations (NGOs).
Using detailed analysis of figures from the UNHCR and the IOM, the researchers found that a sharp rise in the number of drownings followed a clampdown on NGO search and rescue operations in June and July. While there were 20 deaths recorded in April, and 11 in May, in June the number rose to 451. This death toll took place at a time when "departures were comparatively low".
"Although each of these individual developments have been reported elsewhere, together they paint a picture of Europe's resolve to close its external borders and deter irregular migration, regardless of the (human) cost," the report's authors concluded.
"In combination, the three trends described above highlight the harsh realities of recent migration policies, which seek to limit irregular migration regardless of the moral, legal and humanitarian consequences. The current European obsession with reducing migration at all costs is even less comprehensible when considering that arrivals decreased drastically prior to the most recent escalation of rhetoric and externalization of migration control".
The EU shift in policy was spearheaded by Italy's new right-wing interior minister Matteo Salvini, who accused charity-run rescue ships of encouraging and aiding people smugglers.
On the 10th of June Italy unilaterally declared its ports were closed to NGO rescue ships and for a time to commercial ships carrying rescued migrants, emphasising that Italy could no longer be expected to bear the brunt of irregular migration.
This led to an EU wide political crisis as 630 migrants were left stranded aboard the NGO vessel Aquarius, which spent a week stuck at sea. The ship was eventually allowed dock in Valencia, after Spain accepted the migrants.
The Aquarius was symbolic of this summer's broader clampdown on NGO rescue efforts across the Mediterranean. Maltese authorities impounded the 'Mission Lifeline' rescue ship and took legal action over claims the captain broke Maltese maritime law, claims he denies. Several other NGO ships were effectively unable to operate from June through July due to the difficult political climate across Europe.
Matteo Salvini has defended his tough stance and stepped up the policy of shifting responsibility for rescue efforts onto the newly formed Libya Coast Guard. In a headline-grabbing trip, Salvini visited Tripoli, pledging greater political and financial support for the Libyan authorities.
However, the researchers have mapped a series of deadly shipwrecks across the period when NGO rescue ships were all but unable to operate, finding that many occurred "well within 50 nautical miles from Libya's shores."
"These observations are reminiscent of what happened in 2015," the researchers claim, "when the withdraw of competent SAR [Search and Rescue] providers...similarly created the conditions for avoidable loss of life".
While these observations cover a relatively short period, the researchers argue "they are suggestive of the risk of leaving the Libyan SAR Zone to the operations of the LCG [Libyan Coast Guard] alone."
Report co-author Matteo Villa told Euronews that recent fighting near Tripoli and instability across Libya raises serious questions for European governments. "The people who remain locked in Libya, we have seen during the recent surge in instability in Tripoli, experience very harsh conditions, torture, and it's getting worse and worse as instability gets nearer the capital.
"If you deter departures from Libya you need to take account of the situation there. So you either do evacuations from Libya to origin countries, or you must acknowledge the fact that the deterrence policies…are clearly putting migrants and Libyan citizens in peril within Libya," Villa said.
This damning assessment of EU policy comes just ahead of Jean Claude Junker's final state of the union address, in which migration is set to be a central theme. The challenge to his successor is to try and bring nations together on an issue that has exposed the political fault lines running right the way through the European Union.
Euronews has reached out to the Italian and Maltese Authorities several times for a comment but had not received a response at the time of publication.
——————
The Cube is a newsdesk run by a team of Euronews journalists specialising in social discovery and verification. They comb through social media to find, verify, and debunk stories, in real-time, for our audiences on-air and online.