Can Bosnia Herzegovina withstand foreign influence?
Comments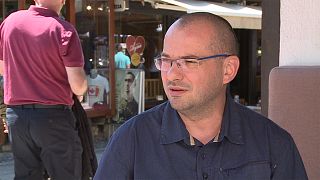 Turkey's soft power strategy in Bosnia is said to be channelled by the media, press agencies and through the education system. The country's interference in Bosnian affairs has been described as a "threat" by a Bosnian ambassador. Euronews' Sophie Claudet spoke to Esref Kenan Rasidagic, a teacher at the University of Sarajevo for an in-depth look at the situation.
Sophie Claudet: "Esref Kenan Rasidagic, thanks for being with us. You teach international relations at the University of Sarajevo. As we have seen in our report, it seems that Turkey is meddling with Bosnia's internal affairs, especially when it comes to supporting pro-Erdogan groups. What's your take on this?"
Esref Kenan Rasidagic: "Since Gulen and the AKP have fallen apart in Turkey, the country has been hell bent on destroying the whole structure, which is going against the interest of Bosnia Herzegovina, against the interest of Bosnia if you want, because there are excellent educational institutions which are educating local kids and providing lots of job opportunities in the local academic market, which is really tight. So what about the interest of Bosnia?"
Sophie Claudet: "There are long historical ties between Bosnia and the Balkans and Turkey, the Ottoman Empire, obviously. They have no other interest in the region?"
Esref Kenan Rasidagic: "The Balkans, in this regard, are basically the victims of their own past, in the sense, if you want to take it this way. I mean Turkey can claim, as we have heard several times from leading Turkish politicians, including Erdogan himself, that OK we are back, and we are here, without, necessarily anyone expecting them to be back or anything. But when it comes to this particular country I would say that Turkish financial, economic and other ties are stronger, lets say, with Serbia that some other countries, than Bosnia, which is often presumed to be the case, but that is not."
Sophie Claudet: "Let's turn to Arab Gulf states. We know that they are investing in the service sector, that they are funding mosques and religious classes and we know also that there are tourists coming from the Gulf. Do you think their own brand of conservative Islam compared to the Islam practiced here is gaining some followers here in Bosnia?"
Esref Kenan Rasidagic: "Even though a number of Gulf Arab countries have constructed mosques or have contributed towards the construction of mosques in Bosnia Herzegovina, none of them have appointed a single imam. There's all Bosnian imams paid for the Islamic Committee in Bosnia Herzegovina, including the Saudi-funded mosque, the very famous one, in Sarajevo, King Fahd.
"It's a building owned by and run by the Islamic committe of Bosnia Herzegovina, there's a local Bosnian imam. No Saudi imam has ever preached there. So that's an important distinction to bear in mind when it comes to the role of Arab countries in building mosques in Bosnia Herzegovina. They don't run them, they don't own them."
Sophie Claudet: How about radical Islamic groups. They first flourished here in the 90s during the war and again when ISIS happened in the Middle East. Is there any evidence that Arab states or groups are financing those radical groups here on the ground?
Esref Kenan Rasidagic: If there are approximately two million Bosniacs which are nominally Muslims in Bosnia Herzegovina. And 20 years of involvement of whatever you might say, what kind of external sponsors. And we see that the numbers of these radicalised youths here run into the low thousands. Let's say there's not much to show for all the supposed effort to radicalise Bosnian Muslims. What I am saying is if Bosnian muslims have not had an extra turn into radicalism, into a violent radical islamist during the war, immediately after the war... then I dont really see perspective for them turning into radical muslims right now.