Ekaterina Siniuk: "People must be part of the solution to social problems in Belarus"
Comments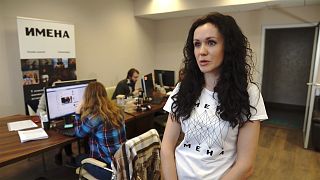 Ekaterina Siniuk is the head of IMENA, a media platform and NGO launched two years ago in Belarus, to adress social issues affecting citizens throughout the country. In this interview with euronews reporter Valérie Gauriat, Ekaterina Siniuk explains why and how IMENA, which operates exclusively through crowdfunding, can make a change for those who have long been neglected by the State.
Ekaterina Siniuk:
"For years, people in Belarus, as in other CIS countries, people got used to reading and seing that there are many social problems here but that they can't do anything about them.
We appeared ti give people a tool, to have some influence on problem solving. All our work focuses on telling people how people are living in Belarus, and that we are responsible about teh way they feel. We musn't just read about it and be unhappy, and wait for things to get solved by themselves, just because the State hasn't done anything about it for years.
It doesnt mean we have to wait for another ten years for things to change. We must take responsibility for change, and offer solutions while criticising what's going on.
A sign that we're sucessful is that more than 30000 people have given money to solve social problems, and we have raised more than 400000 dollars.
The fact that 30000 people in Belarus take part in the resolution of social problems means that mentalities are changing. they agree not only to spend their money on taxes, but they are also ready to voluntarily finance social projects. It means their minds are changing.
But at the same time we see that whether it's society or the government, there is a conservative position that doesn't believe that together we can solve some issues.
People continue to think that this is the government's job, that we are paying taxes, and this is why we just sit there, waiting for things to be solved by themselves, or not.
We just sit there and comment. And the government, when we adress it, when we ask for information, when we offer our help, is not always willing to collaborate. But it's part of our job to explain how some problems can be solved.
I can give you an example. The media have been writing for years about the issue of orphans, and saying they should be helped. But we showed how it was possible to solve this problem together. Children are taken away from their families and sent to hospitals. They are small children, orphans. We showed how they lived there, and what could be done for them. We collected money for nannies to be hired. We didn't just show that they were crying in those places and that nobody took care of them. We showed that something could be done about it. At first, the health ministry didn't accept that initiative. That people came up with nurses and nannies and found a solution themselves. But after long negociations, this is what happened and several regions ahve already solved the problem.
I have to main aims. First, it's to explain to belarusians that they are responsible for what's going on in their country. Second, and we're actively doing this, it's to collaborate with the government and civil servants, and tell them that Belarus must be more open to the world.
We tell them that we must bring in more of the world's best practice, including when it concerns solving problems. Because what's very weird is that we can only take funds from belarusians in Belarus. We've hd to stop taking finds from foreigners, even if it's technically possible. Because our laws are outdated. They impose us to register every single dollar donated in a special department of the Presidency.
And in the case of crowdfunding, it represents hugs flows of funds, when they are coming from many different countries, the United States, Canda, Hungary, Switzerland, Australia, Poland, or Kazakhstan.
When people from different countries want to help solve problems, support social projects, we should be able to give them this possibility. but currently we can't. So we spoke to the government, and came up with concrete proposals, to simplify the law. our aim is to ensure transparency of the process, transparency of funding. But the State must support us.
*The video is in Russian