Political parties have problems to keep up with modern expectations
Comments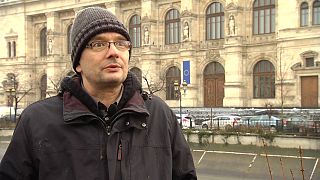 Sorin Cucerai's favorite philosopher is Plato. "Getting into the thoughts of the ancient Greeks helps you to free your mind and be able to have a fresh look onto today's society", Cucerai smiles. Euronews reporter Hans von der Brelie met him in Bucharest to talk about the controversial justice reform and about the ongoing changes of society in Romania. Cucerai is not just a philosopher and has an in-depth knowledge of Romania's society. He publishes articles on democratic challenges and speaks up in Romanian media. Cucerai is one of those intellectuals having a solid cultural background enabling him to have an analytical approach on those events shaking Romania since over two years now: massive protests, huge demonstrations, a split in society… how can all of this be explained?
euronews:
Why are these protests ongoing?
Sorin Cucerai:
First of all, I think in Romania at least we have long protests, multi-year protests. They began in 2012 and since then almost every year we have protests on various issues. The protest is pretty much the same because the same people participate in the protest.
My opinion is that you begin to see in the large cities in Romania that a younger modern generation does not feel represented anymore by the political parties. They feel like they're out of touch with this new emerging society. And paradoxically in Western or Northern Europe you have the populist right emerging because people in rural areas feel left behind. Here in Romania the opposite happens: people in urban areas feel left behind and that politicians do not keep up with their own lifestyle and expectations and hopes.
The protests are ongoing because we have a new society in urban areas and the political parties do not keep up with this modern society, so people are more and more dissatisfied with political parties. One of the worst so to speak is the PSD, the party that is leading Romania now. Because it looks like the most old-fashioned one with a very backward mentality, having very little to do with urban expectations.
euronews:
Why speeding up the reform?
Sorin Cucerai:
Since its inception the PSD had an authoritarian approach on society. And now they got an excellent result in the elections, 45 per cent, and with their allies, they will have over 50 per cent. So they have the majority in the parliament. So the instinct kicked in: We have the power, so we can do it.
This is the long answer. The short answer is: The Social-democrat Party's leader Liviu Dragnea is already convicted on various corruption crimes. So they are obviously trying to make sure that he doesn't go to jail or something. They try to change the law to save one man!