EU rejects calls for 'freeze' in Turkey talks
Comments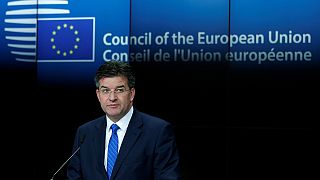 EU foreign ministers said on Tuesday the bloc would not push ahead with membership talks with Turkey but rejected calls by Austria and European lawmakers to freeze the process because of Ankara's security crackdown.
What many perceive as the Turkish president's increasingly authoritarian streak makes it unlikely that the country will be joining the EU anytime soon.
Nevertheless, foreign ministers from the bloc rejected an Austrian call to officially freeze accession talks.
"The word freeze was mentioned by one delegation but did not get the support of the vast majority of the Member States present in the room," said Miroslav Lajcak, the Slovak foreign affairs minister.
Austria believes that Turkish membership is so far off, that it is better to end the facade of ongoing negotiations. Its foreign minister, Sebastian Kurz, said:
"In my opinion it is not a question of slamming doors or of not remaining in a dialogue. It's a huge difference whether you are in dialogue with a state or whether you are fooling a state that it is close to join the European Union."
That echoes calls from the European Parliament.
Turkish authorities have arrested almost 38,000 people and purged more than 100,000 others from government jobs since a failed coup in July.