Europe's last bastion against the CETA deal?
Comments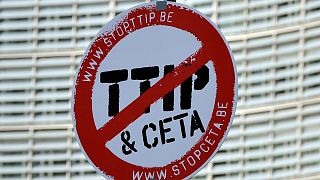 Is Wallonia one of Europe's last bastions against a huge trade deal with Canada?
The region of southern Belgium looks to set to block the CETA deal, which requires unanimous support from member states before it can be written into EU law.
Andre Antoine is president of the Walloon Parliament:
"This treaty is, in essence, for multinationals. When we make a law to protect our fellow citizens, to improve their situation, for example social or environmental conditions, we will have to compensate the multinationals. Between the government proposing, and the parliament deciding we have the multinationals interfering."
As well as the unanimous agreement of member states, both regions of Belgium must back the deal before it can go ahead.
EU trade ministers are due to vote on the accord next week. Brussels and Ottawa then hope to sign it on October 27.
The European Parliament would also need to vote to allow parts of it to go into force.
Support from Slovenia also remains uncertain.
Austria's chancellor, however, has struck a conciliatory tone, saying many of his concerns have been addressed.