Brussels airport to reopen, but will tourists return?
Comments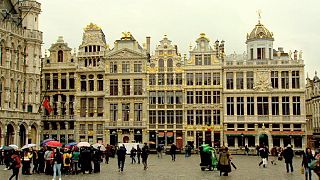 Brussels airport has confirmed it was "technically ready" to reopen on Friday, following the March 22 attacks which devastated much of the main terminal.
But airport officials said the first flights would arrive and leave by the late afternoon at the earliest, subject to clearance from Belgian authorities.
The closure of a major European hub airport has been partially responsible for a large fall in visitor numbers to the Belgian capital since the atrocities.
Despite tight security and the country's armed forces patrolling the city's streets, hotels have reported mass cancellations, with average occupancy down around 50 percent, according to local media.
The City's tourism chiefs hope tourism numbers will quickly bounce back in the same way they did following the Paris attacks last November.
"We know from other cities that the impact will continue to be felt for 6 weeks to 3 months afterwards. We saw it in Paris," said Patrick Bontinck, the director of the tourism body Visit Brussels.
With concern that hotels and restaurants may have to lay off staff temporarily, Bontinck hinted that the Belgian state may step in to help.
"Tourism federations have been negotiating with the government to see how we can get through this period, because it's doing to be difficult," he told euronews.
The fall-off in tourism has been so severe that the local hospitality sector held a crisis meeting this week to try to arrest the drop in visitors.
"Many of our members have been pro-active. They have been in contact with clients who cancelled and said "Brussels is quite safe, so why not come?" said Marc Van Muylders, Vice President of the Hoteliers Federation of Brussels.
"It's clear that the hotels around the airport are empty but in the center of town today, around 60-70 percent of tourists are returning," he told euronews.
With the attacks still fresh in people's memory, some city officials believe tourism may struggle for sometime to come.
But the partial reopening on Brussels airport on Friday will help somewhat.