Euthanasia for minors: Belgium's painful dilemma
Comments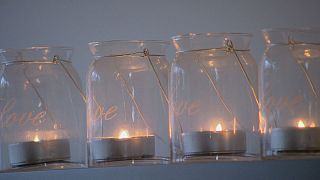 Emotive, controversial and supported by the majority of people in Belgium. A debate on changing the law to allow euthanasia for minors has deeply divided the country.
Doctor van Berlaer is a pediatric oncologist, one of 16 pediatricians who has written an open letter to the Belgian parliament asking to legalise euthanasia for patients under the age of 18. Only Belgium, the Netherlands and Luxembourg allow euthanasia, or choosing the right to die because of unbearable suffering.
But opponents question whether children are capable of deciding to end their own lives.
Gerlant van Berlaer a paediatric oncologist, at Ziekenhuis University believes otherwise: "Most of the time they're afraid that we'll just go walking through the hospitals and killing children. Of course this is nonsense. We as doctors and parents will always want to do the maximum we can to care and to cure a child. But in some very rare situations there is really nothing we can do anymore and this might mean that a child will have to suffer until death will come along and there's no legal way of helping these patients in an ultimate act of humanity."
The extended euthanasia law currently being debated does not specify a minimum age. But doctors who witness the daily suffering of their young patients argue these children are mature beyond their years. A suffering that affects the whole family and one which has made it difficult to get either parents or patients to talk about euthanasia openly.
Ella-Louise Van Rooy was six months old when she was diagnosed with an uncurable genetic disease. She died four months later.
Her mother, Linda says watching her daughter suffer in the last days of her life was unbearable. She knows that extending the euthanasia bill for minors does not include situations such as Ella Louise's. But she hopes that one day this will be possible.
For her, there is no minimum age when it comes to suffering: "The last four or five days of Ella Louise, that's what we felt, there was no quality, there was no dignity to her, not to her life. The only thing that happened to her was she was getting skinnier because she was like eating all her body reserves. She was getting very skinny, she was in pain again. It made me angry. "
However, René Stockman, a senior member of the religious order Brothers of Charity which runs hospices, says that while suffering can be unbearable, for him it's more about finding a sense in life rather than ending it: "We see people coming in with that clear request 'stop my life, I cannot survive anymore in this situation'. They choose nevertheless for palliative care and after a few days we see that the question to die is not posed anymore because they receive again a sense in their life. It's all about sense in their life."
For supporters of euthanasia, the purpose is to be able to decide to end one's life in a dignified and humanitarian way. But also in a legal and safe way.
Yet while the current debate is about extending this right to minors, it has also ignited an older debate – how does the medical profession decide when the suffering is too much?
How far Belgium is willing to go is a debate that will continue not only here but beyond its borders, where many countries are watching it closely.