Bonus interview: an Iranian homosexual in exile
Comments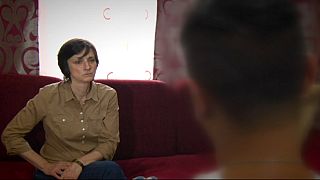 In Iran, homosexuals risk the death penalty. Human rights ngos estimate that several hundred of them have been executed since the islamic revolution of 1979.
We spoke to one of those who has recently taken refuge in Turkey, after he and his boyfriend were threatened by the authorities. His identity is not disclosed, for security reasons.
interview:
"We had started our life together, we were sharing a flat. We had been living together for four or five years. And then one day someone at his workplace denounced our relationship .
He had pictures of us on his laptop. One of his colleagues saw them, and told the company's security office, linked to the intelligence services at the Ministry of Interior.
He was a civil servant, and he was under harsh interrogation for that. They wanted to send him to court, it was very serious for them. With everything that was happening n the country, our situation was more and more difficult. We decided to leave.
A lot of our friends were arrested during parties, and imprisoned. some got very long sentences. Or they were whipped, several times, or tortured. Everyone knows about that. There was a famous case, during a big party in Ispahan. Friends were arrested, the regime wanted to kill them. Thanks to the support and pressure of international organisations, the regime finally had to set them free, though they were in prison for some time, and tortured.
After me and my boyfriend left, he had to go back to Iran only one week later, because something serious happened. The security forces had gone to his parents' place, to interrogate them. They arrested his father. And his mother had a stroke. So they put pressure on my boyfriend, and told him that if he didn't come back, his family would suffer the consequences. He had to go back to Iran, and i haven't had any news from him for the past 3 or four months.
I don't know what happened to him. I ask everyone I can, and nobody answers me clearly. I can't call his family, because very time I tried, either they hang up, or the line is cut off as soon as I say hello.
I don't know what is going on. I tried through facebook, to contact our common friends. They all tell me they are afraid to go and ask for information about him, so I don't know aht to do. I don't have any news. My greatest concern is to know what has happened to him.
We came here to go and ask for asylum at the UNHCR, to go to a third country where we could live, a bit more freely. We weren't asking for much. Just to go to a country where even if people find out about our tendency, though we don't publicise it, at least we won't be afraid to be persecuted or even killed, or have to leave the country because we are homosexual, or wait for someone to come and get us, arrest us, all these things that happen in Iran.
I hope that one day in Iran we will have freedom. And that everyone will be able to lead a comfortable and peaceful life. That everyone, homosexuals, like me, will no longer have problems and will be able to live freely. I hope that some day people will accept me as I am without prejudice, whether I'm homosexual, bisexual, or heterosexual. And that people will accept me as someone who wants to lead a decent life, and can be useful to our society."