Uganda family planning: 'Choice not chance'
Comments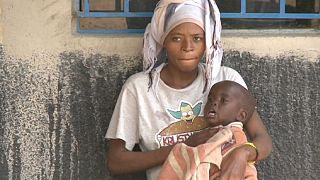 In Uganda today family planning is at the top of the agenda. At the moment there are 34 million citizens but the country has one of the fastest growing populations anywhere in the world. On average each woman will give birth to six children.
In villages and communities people gather to listen the presenters of Heart Radio Uganda. Their talk show discusses family planning, covering topics such as contraceptive injections, condoms and how to avoid teenage pregnancy.
It offers people the chance to call in with their questions, and also stimulates debate in the community.
John Baptist Muweesi is one of the presenters. "It is very useful, he says. "All of the people in this community own phones, then people call, ask questions, give views, then the expert on the studio answers those questions."
This is one of the UN Population Fund initiatives to provide information about birth control to the people of Uganda.
Jackie Kasande, a Ugandan single mother who has been helped by the show, said: "When I was 19 I had just completed my A-level exams when I got pregnant. I decided not to abort. I gave birth to my son and afterwards I thought of ways to go back to school. So I went back to school and I used family planning methods not to mess up again."
There are many reasons for the high birth rate, but it hinges on tradition, religious beliefs, polygamy and early marriage. In Uganda large families are seen as a source of prestige and wealth, some also see child labour is a useful source of income.
We met Prossy a 37-year-old mother of seven children. She actually had one more but he died just after birth. She now has a contraceptive implant which should protect her from unwanted pregnancy for the next three years. She told us that she wishes she had known about this earlier.
We joined her as she made the one hour walk to a nearby village. There are many others who have walked for an entire day to get there, for the monthly visit of the Marie Stopes team.
The Marie Stopes organisation provides approximately 25 percent of family planning services in Uganda. Their outreach teams visit remote places, attracting clients from many kilometres around.
People first sit through a lesson, learning about the methods and the benefits of avoiding teenage pregnancy, spacing births and planning family size. The medics perform on the spot permanent sterilisations, as well as dispensing medium and long term contraceptives.
The most popular is the Depo-Provera injection which lasts for three months. This is what Prossy is asking for as she complains her arm implant is giving her headaches.
One of the nurses, Marie Kansiime, explained they face a huge task: "We need more support. Sometimes you find the number is overwhelming. We leave work at around 7.00 or 8.00 pm, so you see that there is a need for these mothers."
The high birth rate is also a consequence of major gender inequalities. Many men are unwilling to let their wives access family planning services as they see it as an attack on their manhood.
To try to bring them on board the UN Population Fund promotes 'men's action groups', where they can discuss the issue freely.
Byaliuhanga Brazaville, a local teacher, told us of the stigma family planning faces: "The majority of people, especially men, think that if they are put on family planning methods their manhood can reduce and they end up not producing any more."
We met Charles Kuwuma, what is known as a 'Champion' with the UN Population Fund. The Champions are selected as good examples for the community and charged with spreading the message about birth control.
He told us about some of the myths surrounding family planning: "You still have misconceptions, if you use family planning you produce children with very big heads, family planning causes cancer, if you use family planning methods you produce a child with abnormalities. We still have those challenges but the life they live in, people have unmanageable families. People have a lot of problems, unplanned pregnancies, fistula, abortions, people throw their children in the pig latrines, others are getting out of the schools. So we have to come out strongly to help our people!"
Charles took us to meet Grace Nampigga in the small village of Sekende.
Grace told us she has seen the benefits of birth control first hand: "It is a very big burden if you have many children, we want to have just two children, so they can get food, get education, we can care for them so they can look smart have good things, and also enjoy life without these big, big burdens."
More and more women are willing to follow this example but there is yet another challenge. Uganda has a very poor road network, in many places just mud tracks.
On top of that, about 40 percent of health clinics are managed by faith based organisations. Catholic hospitals refuse to stock contraceptives of any kind on their premises.
Moses Mwonge, a logistics consultant trying to deal with these issues, said: "It is a combination of factors, one is availability of supplies. We have women who walk 20km to a health facility and they find there are no contraceptives. So that's a lost opportunity."
The national medical supply network has recently been computerised and updated, but it is still a logistical challenge. Moses wonders why commercial goods can reach the remotest villages, but contraceptives can't.
"The unmet need for contraceptives is 41 percent in Uganda. So why don't we work very hard to make sure that whoever wants to have contraceptives actually find them? Because we are doing a lot of mass media, a lot of education, for people to accept contraceptives. But if those few who have accepted change and see it is important for them go to the health facility and they cannot access the contraceptives, then we have gone six steps backwards instead of forwards."
Family planning has only recently returned to the top of the agenda, with almost four billion euros being raised by the Gates Foundation, the UK government and several private and public investors, in the effort to provide contraceptives to developing countries.
How does the Ugandan government feel about being at the receiving end of such an international effort?
Dr Jennifer Wayana, an official from the Ugandan Ministry of Health, told euronews: "That one is a bit really tricky to answer, should we say colonising or we also understand that it is not really being colonised? We also feel that actually we need to do something about it, it is not that we are being pushed to do it, because it is affecting our health, it is affecting our health system, it is putting a lot on pressure on what facilities are available."
It is estimated there will be around 80 million unwanted pregnancies in poor countries worldwide this year, half of which will be aborted, and around 100,000 mothers will die in childbirth.
Family planning is primarily about health and human rights. The right to chose when, and how many children to have. The road is still long, but it is hoped that by 2020, the latest funding will more than halve the number of women in developing countries who want and need modern contraceptives but do not have access to them.
Marie Stopes Nurse, Marie Kansiime, concluded: "The more kids you have, the more you get confused, and you don't get time to care about yourself, you don't get time to look about your husband, and the love is gone, the love for the kids is gone, so I think, I hope, my dream is: every woman in Uganda to be happy with the children she is having, having children by choice, not by chance."