Cuts that threaten to starve European food aid
Comments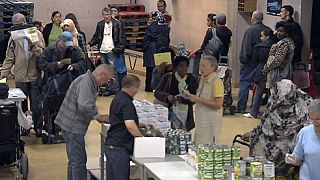 Every morning, Arnaud Langlais and his team scour the stalls at the biggest wholesale fruit and vegetable market in Europe, Rungis in France.
Their main aim is to gather unsold produce, and distribute it to the poor.
"We go to the wholesalers, we take palettes for nothing, we sort them and hand them out," Langlais said. "Right now it's a bit hit-and-miss. There are days when we get lots of produce, and others when there's less. We have to buy anything that we can't get free from the wholesalers."
The goods are then sorted at Potager de Marianne, a kind of job-creation scheme set up three years ago by a national network of what the French call 'social grocers.'
The workers, who used to be on the dole, are given six-month renewable contracts to help get them back into the working world.
It has given new hope to Marie-Jo Mastail who had been unemployed for three years.
"I'm happy to be here – at least it helps me while I search for work," she said. "Meanwhile at least I'm doing something, being useful you see!"
The packages are sent to 'social grocers' and food-aid centres all over the Ile-de-France region.
"Year after year we're dealing with greater volumes. In 2010 we distributed 770 tonnes of fruit and veg. In 2009 we did 400 tonnes so we doubled that last year," Langlais added. "And this year we'll do a bit more than last. It's true that there's more demand every year. It's true that the food-aid organisations are being called upon more and more. There are lots more working-class people now who are asking for help feeding their families."
With the financial crisis, all charities have seen demand rise, such as at the distribution centre for the association Restaurants du Coeur, or Restaurants of the Heart.
Mothers, pensioners, students and low-paid workers are all swelling the ranks of the poor.
Since 2008, the Restos du Coeur network has seen the number of people coming through its doors rise by 25 percent.
One pensioner there said: "With my pension you just can't do it. With less than 600 euros a month to live on, pay rent and everything, you just can't.
"For me, once I've paid everything I'm left with 160 euros per month for everything – for clothes and everything. Luckily there are these Restos du Coeur. Without them you could die – and on top of that they want to cut the food aid," added another jobless claimant.
A quarter of the food distributed at the centre comes from the European Programme for the most disadvantaged, or PEAD.
The programme was the brainchild of the French comedian Coluche, who also founded Restos du Coeur. In the 1980s he convinced the European Commission to hand over surplus EU produce for food aid.
Today, surplus production only accounts for a quarter of the needs. The rest is bought with funds from the Common Agricultural Policy budget.
But that has been challenged by six EU states: Germany, Sweden, Denmark, the Netherlands, Britain and the Czech Republic.
They believe the aid should come from individual states' social policies.
The president of Restos du Coeur Oliver Berthe said: "We can start discussing the period from 2014 to 2020. We think that food aid, food security, is a European issue. We have always been in favour of these methods of regulation. Because today, stocks are at their lowest, but we don't know what they're going to be in five or six years. But we also recommend that there be the possibility to buy in the market, in reasonable proportions, from the same budget. We haven't got time to discuss this new allocation for 2012-2013, for that year there's no alternative, no other solution, because the aid agencies are facing a situation they've never seen before."
The current PEAD budget is 480 million euros, scarcely one percent of the Common Agricultural Policy budget.
But that could fall by 80 percent if it is limited simply to European farm surpluses.
PEAD helps to feed 18 million people in Europe and represents half of the supplies in food banks that hand out goods to charities in 19 European countries.
The French Federation of Food Banks believes it is unthinkable to return the problem to the national policies of individual member states.
Federation president Alain Seugé said: "There are 80 million poor people — 80 million people living below the poverty line in Europe – that's the biggest European nation! It's impossible to deny this reality on a European level, while it is possible to dream up very sophisticated mechanisms to build European solidarity to save the banks. Among those who believe in Europe, who have a European mentality, it's impossible to deny the need to establish policies of solidarity on a European level."
Alain Seugé said there is an imbalance of need, and PEAD accounts for up to 90 percent of aid handed out in Poland and Hungary.
"The advantage of this as it stands – - a European programme — is that it implies solidarity between the richest nations and those with much less," said Jean Delmelle. "To return the programme, fully or partially, to the national level means there'd be no more solidarity. As a European citizen, and I choose my words carefully, that hurts me."
If the current ruling, limiting the PEAD's aid to surplus European farm produce isn't quickly modified — as the European Commission has recommended — the charities worry they will not be able to respond to the needy next year.
And at one food distribution centre in Paris they are also noticing a continuing fall in donations from businesses and private individuals.
Ion David from Secours Populaire Paris said: "You know – and it's not because the camera is here – but we've come back from the collection with some packets of cereal and a few kilos of sugar. I'm not saying people don't want to give when we make food collections, but they can't. It's not like it was before. So for us, 95 percent of our products come from the EU."
This year the number of people asking for help here has doubled. Géraldine started volunteering after finding a job as a care-assistant. But with four children and rent of 600 euros to find, her income still isn't enough without resorting to food aid.
"I work on short term contracts, not a permanent job," she explained. "So they might call me – they might not. When the phone doesn't ring and it's hard to make ends meet with my children, I come back here as a client and work as a volunteer at the same time. There's no choice. Life's too expensive, too many charges, and once you've paid for everything you realise you can't allow yourself to shop for the things you used to buy."
Julien Lauprêtre, the head of Secours Populaire Français said: "We really hope that any changes will take into account the rise in poverty. Because the PEAD programme goes back several years, but in the meantime misery and poverty have increased. In other words it needs even more cash. People should know that all of the PEAD food aid amounts to just one euro, per European, per year. And when you see the billions that they tell us are spent on this or that, well it's well and truly inhuman."