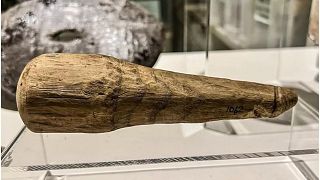 -
Copyright

The Vindolanda Trust/Newcastle University
Move over or make room Herculean statues and ancient Egyptian tombs. 
There's a new archaeological discovery that's got everyone talking: a wooden penis. 
That's right folks - after what's believed to be extremely careful handling and reassessment of an unusual object found more than 30 years ago, researchers in Northumberland believe they may have found the only known life-sized Roman sex toy. 
The phallic shaped object, which measures about 16 centimetres (6.2 inches), was found in a ditch in 1992 at Vindolanda, just south of Hadrian's Wall, alongside dozens of shoes, accessories and small tools. 
While it was initially catalogued as a "a darning tool" upon its discovery, after a recent re-examination, its unusually smooth ends (indicating repeated use over time) have led experts from Newcastle University and University College Dublin to believe that it may have been more than just a practical tool.
"We know that the ancient Romans and Greeks used sexual implements - this object from Vindolanda could be an example of one," explains Dr Rob Collins, a senior lecturer in archaeology at Newcastle University. 
But the true purpose of this dildo-shaped object is still a little murky. 
"Often in archaeology when we find an object we can tell what it was used for or deduce what it was used for. That wasn't the case for this object," adds Collins. 
Researchers have come up with three possible theories for what it was used for: it could have been a sex toy, a pestle to grind ingredients for cosmetics or medicines, or a good luck charm that people touched for protection (phalli were prevalent in the Roman Empire as they were believed to offer protection against bad luck). 
But even if the Vindolanda phallus was intended for more innocent purposes, there's no denying that it's a fascinating find. For one thing, it's the first known example of a disembodied wooden phallus from the Roman world.