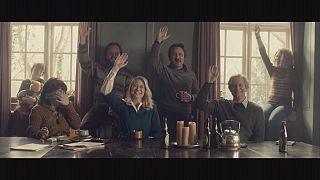 The Commune by acclaimed Danish director Thomas Vinterberg is a partly autobiographical dramedy set in a 1970s commune.
Explore the trials and tribulations of commune life in Thomas Vinterberg's latest offering: https://t.co/UVbrD0TlWwpic.twitter.com/wEMuiOUPxc

—

BFI

(@BFI) July 26, 2016
The plot centres on a married couple played by Trine Dyrholm and Ulrich Thomsen, who decide to shake up their living arrangements and keep boredom at bay by starting a commune.
Real-life inspiration
The Commune is based on a play by Vinterberg who himself grew up in a Danish commune. He believes such living arrangements have little appeal nowadays but has some fond recollections nonetheless as he revealed:
" Sharing, togetherness, this kind of structure was replaced with individual freedom and the right to privacy, which, I guess, people have chosen now, to a large degree. So, I think the era has been over for many years. I miss it though, I thought it was amazing. I thought it was fantastic values."
The bubble bursts
Life in the commune takes a sour turn when Erik, the husband, decides to move his student and lover into the fold. Critics were surprised by the 'sexual conservatism' and missed opportunities within the script. Several of them, including Peter Bradshaw compared the film to a TV pilot.
Best actress in the Baltic Gaze competition is Trine Dyrholm for her role in the film 'The Commune' pic.twitter.com/CEG7lmJaTR

— VilniusFilmFestival (@VilniusFilmFest) April 15, 2016
However, there are some noteworthy performances and some great moments. Actress Trine Dyrholm who won the Silver Bear in Berlin for best interpretation, also spent time in a commune. As she explained:
" I've shared apartments with friends. I also tried to live in a commune, my cousin's commune, for half a year in the '80s and I like the ideas – the basic concept of sharing. Right now I live with my husband and my child, but I often eat dinners with my neighbors and we try to make the family bigger."
"The Commune" will be released in the U.K. and Ireland on 29th July 2016.