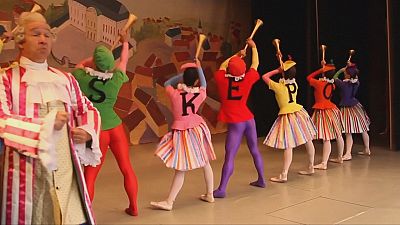 Denmark's Queen Margrethe has taken on the role of a scenographer, designing the set for a new production of the classic fairytale Cinderella, at the Pantomime Theatre in Copenhagen.
The Queen worked with Russian choreographer Yuri Possokhov, a former Principal Dancer with San Francisco Ballet, Royal Danish Ballet, and Bolshoi Ballet.
"We've have had to adjust the costumes a little bit. Because I've never… I don't know your choreography." Margrethe said to Possokhov during a press conference. "I didn't know how you do your choreography beforehand, so I had to, we had to adapt and I think it worked out".
The Queen designed her first stage set for the Tivoli Pantomime Theatre in 2001. Since then she has designed a further four sets for Hans Christian Andersen stories and one for Tchaikovsky's "The Nutcracker".
Just a couple of days before the premiere, all the costumes got a final once-over for the royal seal of approval. "We have like a costume parade and we show her," said dance Fenella Cook. "And everybody comes together and has a look – and make some small adjustments, we see how it fits and then works with the set. And also a lot of the movements we do, depends a lot on the fabric of the costumes, so somethings have to change, so no one gets hurt or caught and things like that".
The musical arrangements are done by Danish singer-songwriter and record producer Nanna Øland Fabricius, better known by her stage name Oh Land. The ballet premieres in late June.