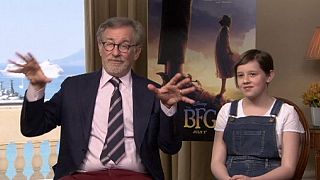 Based on Roal Dahl's novel of the same name, 'The Big Friendly Giant' marks a return for Steven Spielberg to the family film genre.
It also reunited him with writer Melissa Mathison more than three decades after they collaborated on ET. Mathison died in November while the film was still in post-production. It's the first time in his fifty years as a filmmaker that Steven Spielberg has directed a full-length motion picture for Walt Disney Pictures.
Spielberg presented The BFG out of competition in Cannes where he talked about his 'minimalistic' approach to the film.
"There were a lot of choices I could have made in adapting, as a director, Melissa's script to the screen. One thing I could have done is take out all the pauses, take out all the spaces, all the air and just go slam, bang, twice as many scenes, more action and fall into the genre of the superhero movie or the big, out of proportion stories of large monsters and small humans. And I just said 'I'll risk failure to tell the story the way I think Roald Dahl would want the story told and the way Melissa (Mathison) and I really wanted it told, to take our time with it and let it slowly roll across you and not just assault you.' I don't think there's anything in the movie, except a couple of scenes with the big, terrifying giants, that is assaultive at all. I wanted it to be more of a poem than I did a race to a huge climax," said Spielberg.
Starring an all-digital Mark Rylance as the Big Friendly Giant, who kidnaps Sophie, an orphan played by newcomer Ruby Barnhill, the film opened to positive reviews in Cannes, where critics were seduced by Rylance's gentle giant and the film's magical quality.
'The BFG' rolls out in theatres worldwide from July and is expected to become a summer box office hit