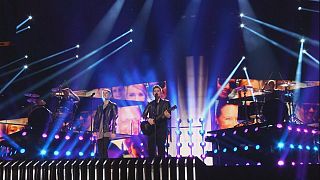 Well, Europe is in the middle of a refugee crisis, has Greece wobbling and the euro under threat, faces a resurgent Russia in the east, and a resurgent far-right at home but, hey, we can still organise the best Song Contest in the world. Yes, it is Eurovision time again.
You want us to sing? We are not singers!
The 61st edition of the song contest is taking place in Stockholm, Sweden, home of 2015 winner Mans Zelmerlow.
"It's like a big hobby of mine, I go every year, and this is actually my 11th Eurovision," said one woman.
"Its just madness, this week is absolutely the best holiday, you know, ever!" said a male reveller.
Happy chappies
Britain has a couple of likely lads for their entry, Joe Woolford and Jake Shakeshaf.
"Its insane. its amazing to be here," says Joe. Yes boys, but can you sing for euronews?
"You want us to sing?" says Jake, "We are not singers!" So that's all right then.
Joe and Jake are a brand new musical duo, presenting their debut track for Britain,
"You're Not Alone", an anthemic pop song with a universal message.
Homeboy looks to make good
Only 17, Frans Jeppson Wall is hoping his "If I Were Sorry" can retain the title for Sweden. Can the host country do the double?
Say what?
Spain's candidate Barei wrote her song for the Eurovision Song Contest, "Say Yay!" along with Ruben Villanueva and Victor Pua. It is an up-tempo song with energy and strength that emotionally reflects the common struggle for self-improvement; a rallying cry for anyone who fights to accomplish their goals.
Up close and personal
Italy's contestant, Francesca Michielin came second at this year's Festival di San Remo which earned her Eurovision Song Contest spot. "No Degree Of Separation" has become a huge Italian hit. Will Europe like it?
We will shock you
Germany's song is "Ghost" by Jamie-Lee Kriewitz, a 17-year old singer with her very own colourful style – and a strong voice!
Asking for it
The last of the big five, France, has Amir. His song "J'ai cherché" has enjoyed heavy airplay on the major radio stations in France and is already a hit.
Forty-two candidates will slug it out for the 26 finals places during this week's semi-finals. Then it is on to the main event…