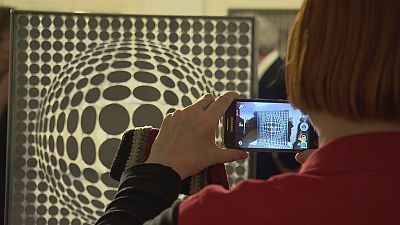 He is widely considered the father of the op art movement, a style of visual art that uses optical illusion.
Now, the public can discover or rediscover the work of Hungarian-born French artist Victor Vasarely at an exhibition at the French Institute in Budapest.
Euronews' Gábor Ács spoke to Pierre Vasarely, who explained how his famous grandfather developed his technique in the pre-computer age.
"He worked very hard, and it's by working hard that he was able to develop this technique that allowed him to create faster, to draw, to imagine," he explained. "Also, many of his works are made from initial collages. The collages allowed him to see what the artwork would look like on canvas. A drop of glue, small cardboard squares were all it took for him to get an idea of what the painting would look like, and he did this with the help of assistants."
Just like Picasso or Modigliani before him, Vasarely was not born French but made his name in France. After following graphics studies based on the Bauhaus model, he moved to Paris in his early twenties where he worked for advertising agencies, before opening his own studio after the war.
"My favourite pieces are his kinetic black and white artworks, which you can see here on the wall behind me," says Hervé Ferrage, director of the French Institute in Budapest. "You really sense the influence of the constructivist and abstract movements of the 1930's."
In 1969, the Hungarian communist regime allowed Vasarely to exhibit in Budapest for the first time. Abstract art was taboo at the time, but Vasarely's artistic agenda, ever since the 1950's, envisaged an integration of art into everyday life, making it accessible to all. This conviction made him one of the key pacemakers of multiple art.
"After the 1969 Vasarely exhibition, Hungarian intellectuals but also ordinary people all decorated their flats with posters of the exhibition," explains Márton Orosz, curator of the exhibition. "Many people brought home textiles, curtains, carpets designed in Vasarely's op art style. So, in Hungary, Vasarely's dream had came true – the artist's idea of democracy in art was a world where people's living space becomes home to the artwork. So in Hungary it happened just like Vasarely had imagined."
The Vasarely exhibition runs at the French Institute in Budapest until June 18.