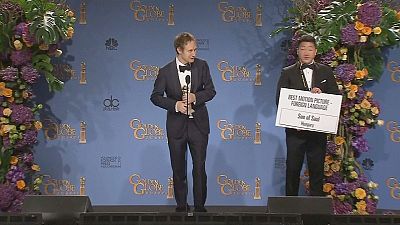 The Golden Globe for Best Foreign Language Film has gone to 'The Son of Saul', a first feature by Hungarian director László Nemes.
It tells the story of a member of the Sonderkommando, the Jewish prisoners in Auschwitz whose task it was to clean out the gas chambers, shovel the bodies into the crematoria and dispose of the ashes. One day, he finds the remains of a child he believes to be his son and decides to give the boy a proper burial.
"The Holocaust showed us the monster that really exists within human beings," said Nemes as he picked up the award with his team. "It is a possibility, a constant possibility. It can… we can turn into that once more, and we have seen genocides are still going on, they haven't stopped. So I think we have to look into the human soul, and cinema can do that, I think, in a very visceral way."
After winning the Grand Jury Prize in Cannes last year, the film is a frontrunner for the Oscars":http://www.hollywoodreporter.com/features/how-son-saul-defied-dangers-838149.
'The Son of Saul' is on global release from now.
http://www.euronews.com/2015/06/12/son-of-saul-cannes-special-jury-winner-hits-hard/