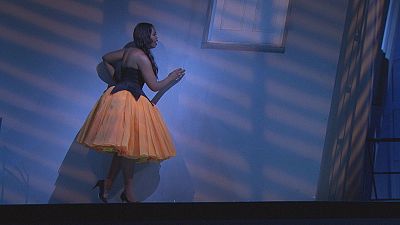 Pretty Yende is considered one of the rising stars of the operatic world. The 30-year-old South African debuted recently at the Gran Teatre del Liceu in Barcelona in Donizetti's masterpiece Don Pasquale, – a classic '"opera 'buffa":http://global.britannica.com/art/opera-buffa' with scenes of mistaken identities, love intrigues, disguises and a false marriage.
Norina v the Don In the titular role baritone Roberto de Candia says the comedy lies in the the relationship between the two main characters: "Don Pasquale believes everything – Norina is making everything as a fake and she is going to make his life impossible."
Yenda says she relished playing the part of the devious Norina:
"You find this young girl, (Norina), who is just so nasty. She is super nasty in this production with Don Pasquale and it's so much fun to play her because she is so different from who I am.
It has been enlightening for me to just push the boundaries more and I think it will have a lot of power in the sense that it's not just one colour of Norina but so many."
The soprano has made a remarkable musical journey from winning Plácido Domingo's prestigious opera competition Operalia in 2011 to singing in the world's leading opera houses.
Upsidedown world French stage director Laurent Pelly has set the production in the 1950s and has some surprises up his sleeve, particularly for the hapless Don, whose world is literally turned upside down.
"Norina, she is going to change everything and you will see the same house the other way around," says de Candia. "So the armchair is on the roof and then the chandelier is on the floor. In a way this space is also like a cage where Don Pasquale is trapped.
He doesn't understand anything. He becomes lost in his own world."
Learning curve Yende says she still on a learning curve at this level of opera, professionally and personally: "I think the difficulty is to hold my horses because I'm a very expressive person. Getting ahead of your emotions can be difficult and so I'm learning to balance, you know, the instinct and the moment and the momentum but also the discipline of just singing purely beautiful music in the way that it's written which is bel canto – beautiful singing.
With bel canto being, you know, the centrepiece of the comedy of it all, you need to have immense energy. All that beauty and the melodies are all combined in this energetic-like race to the finish."
For more excerpts from our interview with South African soprano Pretty Yende please click on the following link:
The musical journey of Pretty Yende
Behind the scenes with Musica producer Katharina Kaun at the Gran Teatre del Liceu in Barcelona. On the programme,...

Posted by euronews on Thursday, 25 June 2015