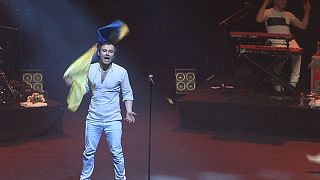 Ukraine's most successful rock band Okean Elzy (Elza's Ocean) is celebrating its 20th anniversary with a world tour.
If people, who fight for their freedom on Maidan or on the frontline need my songs, that means it's God's will.
Euronews' Iryna Tymchyshyn caught up with the group in the French capital's Olympia Hall as they prepared to open the month long Ukrainian art festival, Ukraine Free Stage
OE's leader and songwriter is Svyatoslav Vakarchuk. He is arguably Ukraine's most famous and widely respected star and his influence stretches from pop to politics.
A key figure in both the 2004 Orange Revolution and the Maidan Square Movement, he's been compared by some critics to Bono, the frontman of legendary Irish rockers U2.
OE's songs become anthems during the protests and can still be heard on the frontline.
Vakarchuk says he never tries to put politics into his alyrics, but somehow his songs start having their own lives, something he thinks makes his music so powerful.
"Writing songs, I have never thought that soldiers would live with them on the frontline. Basically, when you compose songs, you don't think about some situations. You just compose," said Vakarchuk.
"You just have an open channel, it's like having a conversation with God, I always say. And he puts something into your head, into your soul, and then you pass this onto people. Maybe, he has put in this lyric, these songs or this music in order to pass it to those who need it. If people, who fight for their freedom on Maidans on the frontline need my songs, that means it's God's will," he adds.
OE have made eight studio albums with his band. The last one "Zemlya" (The earth) was released around six months before Maidan started. "The Wall" is one of the album's most symbolic songs where Vakarchuk sort of foresaw the current divisions between people.
Being popular among fans who have different views on politics Vakarchuk tries to unite people with his music. He was among the first to visit Donetsk last year before the separatists' referendum.
Now Vakarchuk thinks that the only way to make the "wall" fall and to win back people's hearts in the east and in Crimea is to build a successful Ukraine.
"There's only one way to improve Ukraine and the life of Ukrainians. We need reforms, to change the rules of the game, improve the wealth of people and create specific success stories. By becoming more succesful, it would be easier for the win any war in the moral, material, military or diplomatic sense. The strong ones always win. And to become strong – indeed this success has always been in our hands," said Vakarchuk.
Wherever OE travels, their concerts are always sold-out. A record 70,000 people packed into one stadium gig in Ukraine last year. Olympia was also filled to the brim.
Half-Ukrainian, half-French Anna brought her husband Jean-Christophe to the concert.
"I think, that they have a great energy. And also they always stand by Ukraine and do a lot to promote the country outside as well. This is very important for me," said Anna.
Sentiments shared by her husband: "I understand a little Ukrainian but not enough to understand the meaning really of what they're singing. It's most of all the ambiance and feeling; there's sincerity which I think is indicative of the spirit of Ukrainian people."
After Paris, Okean Elzy will bring that Ukrainian spirit to several other cities across Europe.
Then the band will take a well-earned break before recording a new album which is due to be released in 2016.