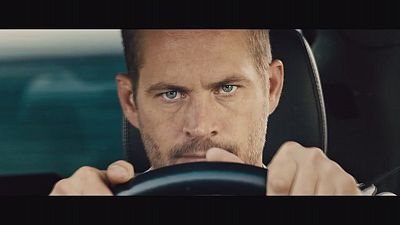 Set to hit cinema theatres in 60 different countries, the latest installment of the 'Fast and Furious' saga is one of the widest releases of all time.
'Furious 7' is widely seen as a homage to Paul Walker, whose final performance it was.
The actor died in a car crash in 2013 before filming finished. Production was delayed for several months before director James Wan decided to simply retire Walker's character. His cast mates approve of the way it was done.
"The irony is that what anyone comes into this movie thinking – that the ending is going to make them feel a sad emotion – they still feel emotional at the end, but it elevates them in some ways," says Vin Diesel. "It sounds crazy but you leave the movie with tears of joy."
Dwayne Johnson agrees: "I loved the movie and I loved the epilogue to it and I felt it was as elegant and as respectful as it possibly could have been. I it was also triggering too, it was very emotional. But I saw it and I loved it and I think audiences will, too."
Jordana Brewster, who has been with the 'Fast and Furious' franchise since the very beginning, says she feels proud of Walker's final performance: "He's really, really, really good in it, so I am really happy that everyone gets to see his work. The tribute is also really beautiful and it's also such a good representation of the 15 years of work he put into this franchise, so I hope people like it," she says.
Early reviews call it a "fitting tribute" to Paul Walker, saying co-star Vin Diesel and team should still be congratulated for a ride that still manages to be joyful in the worst of circumstances.
'Furious 7' opens worldwide this month.