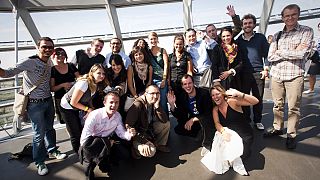 Preventing youth unemployment is a European target which is often mentioned but more easily said than done. At the end of 2013, 23.1 percent of young Europeans were still out of work and fighting for their future.
In order to address this issue and many more, a group of young people from Macedonia decided to launch an initiative called Mladiinfo, a creative platform which aims to help their generation to prove the unemployment tendency wrong. By giving information related to educational and youth entrepreneurship opportunities around the world, the co-founders seek to help their comrades boost their job prospects.
But fighting unemployment is part of a bigger picture which is often skipped over or misunderstood by the authorities. The world of students is far more complex. That is why the mission of the organisation is also to aid young individuals with personal development and increasing their independence so that they can become more active agents in society, in a way which will make them more prepared for future challenges.
Mladiinfo wins European Youth Award - collected by Bistra Kumbaroska (left)
What actually started as a web page and an 'online meeting point' for young people to find information about free education worldwide, is now a network with 7 branches around Europe, hundreds of volunteers sharing the same ideas and many approved and implemented projects. In 2012, Mladiinfo won the Special Graz Award for Best Business Potential and the main award in the education category at the European Youth Award Summit.
Antoaneta Ivanova, a Co-Founder and President of Mladiinfo, explains that personal reasons were the starting point of the project for her:
"My parents have always valued the things you do not get with money. They have enabled me to obtain an education which opened my horizons. My wish to travel the world derived from my father who had the opportunity to visit more than 60 countries across the globe", she says.
After spending a couple of years obtaining many diplomas at recognised universities worldwide, experiencing internships at the UN in NYC and the European Parliament in Brussels – all for free, just using the internet – Antoaneta decided the knowledge she obtained was worth spreading. This fact, in her opinion, is crucial for students in countries of transition who often struggle to embrace opportunities because of financial obstacles.
"As you can guess, technical barriers stood in my way when I first attempted to go abroad, however I was not discouraged. I kept on trying to find ways to surpass these obstacles. With the rising popularity of the internet, I started to search for ways through which I could continue my education outside Macedonia."
After six years, something that still keeps Antoaneta and her team motivated is the positive feedback and the growth of the organisation into 6 other countries including: Slovakia, Czech Republic, Slovenia, Croatia, Albania and Montenegro.
Mladiinfo celebrated its 5th birthday in November 2013
In order to illustrate the development of the initiative, Antoaneta says: "Try to look at it as you look at a plant: it takes time to grow up and to enjoy the fruits, but the whole process of developing gives you an amazing strength knowing how everything started and where it is leading. And all the positive people in the central office, the dedicated youth in our branch offices and the positive feedback we receive give me additional energy and will to continue the good job."
Zsuzsa Kecsmar from Hungary, who is now a successful manager of a marketing company in London, is just one example of a person who benefited from Mladiinfo. The information posted on the website helped her to find a young media workshop in 2009. At the workshop she acquired useful contacts and information which helped her to apply for the Young Journalism Award in 2009 in her home country.
"I applied, and the jury selected my piece. The prize was a trip to Berlin, where I met awesome journalists from all over Europe. The next year we organised a meeting to Istanbul. We have been connected ever since. It's nice to be a part of their group," Zsuzsa says.
Mladiinfo is also cooperating with different stakeholders in the countries where the branches are located. Just recently the organisers experienced a wave of volunteers interested in joining the project. The local governments are also helping to support projects and find venues for its activities.
Mladiinfo is just one example that non-profit organisations are capable of bridging the gap between institutions and real world problems. In this sense, there is still a lesson to be learnt by the authorities on how to address real obstacles met by the young generation.
For Antoaneta and her team the path for success is clear: helping others while developing in the non-profit sector seems to be the key… and the never-ending source of motivation. "What has always been moving me forward is that there are a myriad of opportunities we can use in this vast world for our personal development, but also for the development of the society we live in."
Also to read from Zhuliyana Boyanova:

How to "Press the Klaxon" for artists