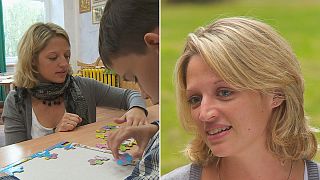 Just a few weeks ago, Eva might not have believed she would be singing into a microphone in front of her students.
 
This 25-year-old teacher from Germany has just arrived in Lithuania as part of a European partnership programme.
 
She is one of thousands of young teachers taking part in a new working adventure abroad.
 
"It's my first experience abroad. I thought about it for a long time, where did I want to go, I didn't want a country I already knew from holidays or television, but something rather more exotic, so I think Lithuania was the right choice for me," Eva said.
 
Lithuania was definitely the right choice for Carlos from Spain who recently finished his his time as an assistant science teacher in Druskininkai.
 
He certainly left his mark, impressing students, and fellow teachers alike and has already received four job offers in Lithuania.
 
"Teaching in your own country is very different to teaching abroad," he told euronews. "You have to work twice as hard but the reward can be even greater. Here, with this exchange, I have learned more in three to four months than if I would have done in 10 masters degrees."
 
Eva's first week was spent observing and taking it all in. She is working in a Waldorf school, which follows a teaching method emphasizing the role of the imagination in learning.
 
Eva hopes to pick up the language over time but for now her pupils have been very helpful: "It's difficult, but the children are being really brave. They try to explain things to me, they teach me Lithuanian and I try to answer in German and English. It's exciting."
 
Eva's stay is part of the Comenius programme, an EU scheme that allows future teachers to work as assistants abroad for a period of between three and 10 months.
 
Renata, Eva's mentor in Lithuania, gave her opinion: "She is young and the children have a better attitude toward younger teachers. And also the motivation to study foreign languages will rise because they can experience themselves why foreign languages are important." 
 
Making the most of his time away, Carlos learned Lithuanian, travelled around the country and even found time to go for the odd swim in some of the country's many lakes.
 
But it was not all play. He also set up a science club which lead to the publication of a Lithuanian-Spanish dictionary on nuclear terms.
 
"I have a scientific background and I wasn't interested in a linguistic assistantship, so I suggested scientific activities. I looked for students who would be interested and after classes we would work on scientific and engineering topics," explained Carlos.
 
His energy rubbed off on his students. "Its very interesting to know Carlos, he's full of ideas, he's very active and he's an example for all of us," enthused student Artur Nikogosian.
 
Having the chance to teach the students a little bit about Galicia, his region, was another bonus for Carlos: "Listening to Lithuanian students reciting poetry in Galician is almost a miracle. I was very moved and happy, and proud of them."
 
The high point came when one of his students gave a piano concert, playing a piece by Carlos' great grandfather, the composer Eduardo Viscasillas.
 
The Comenius programme has already helped send more than 7,000 future teachers abroad, shaping their lives and their outlook on the world.