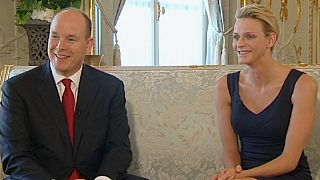 The tiny principality of Monaco is gearing up for a very big occasion.
On July 1st and 2nd Prince Albert and Charlene Wittstock will be married: the extravagant celebration will involve a civil ceremony followed by a religious ceremony the next day.
Euronews spoke with the couple as they shared some of their thoughts and emotions ahead of their wedding.
Euronews: Your Highness, Miss Wittstock, many thanks for joining us on Euronews at what must be a shockingly busy time.
So the clock is definitely ticking – your wedding plans are more than organised at this point but despite the stress that must be involved you seem both so incredibly calm and serene.
Prince Albert: It is in our character and personalities. I don't think we get too upset or wound up over preparations like this. It is a big preparation and it is a lot of work, and has been a lot of work, and a lot of sometimes slightly difficult moments but I think we are over those and I think you can see not only the palace but Monaco transforming itself for these days ahead.
Charlene Wittstock: For the moment everything has been on target – we are on target for most of everything that's been going on. There have been no mishaps on the works side.
Prince Albert: It's just the little organisational details – not necessarily the ceremonial side but on the logistical side.
Euronews: So it is a huge event – but have you been able to add some personal touches?
Prince Albert: I think we decided together the basic outlay….
Charlene Wittstock: It was a joint venture
Prince Albert: And then of course Charlene being a woman with great taste is more involved in the decoration and some of the details on that side.
Euronews: What details have you added?
Charlene Wittstock: Oh you'll see. I don't want to give too much away right now. It's going to be a surprise. The wedding should be something beautiful that you can't see what makes it beautiful.
Euronews: It's a fairytale this is pretty much every girl's dream – or most girls dreams to become a princess – do you have to pinch yourself some days – and say wow this is my reality now – I wasn't expecting this…
Charlene Wittstock: I don't think it has sunk in right now all this going on – I see the courtyard completely different as to what it was, there are a lot more people working – It's going to be an event… I just take it in my stride for now.
Euronews: And Your highness, it has taken you some time to find the woman of your dreams. Do you have to pinch yourself and say wow finally I have found the woman who will be with me for the rest of my days?
Prince Albert: No, I think the pinching never happened, but I am very… very thrilled and delighted that Charlene and I are going to spend at least a long time together and I hope the longest time possible. Everyone has their own timing and everyone has their own path in life – and own way of doing things – and I took the slightly longer road. But there is no age limit to when you are going to get married – it's a personal decision and it was a mutual decision.
Euronews: You are entering into an incredibly famous family which has legendary status how does it feel entering a living legend?
Charlene Wittstock: Myself I have a lot of respect for the country and for Albert's heritage and I have always said that I would never fill someone's shoes; I have always walked my own path, I swam my own races, so I guess time will tell where this ends up.
Euronews: Sport is obviously an enormous factor in your relationship – what are the other magic ingredients. What melts your heart when you think of your bride to be?
Prince Albert: She is so generous with her time to others – she really reaches out to other people and especially to children and children with disabilities as well. She's been nominated ambassador to the Special Olympics which is a great organisation with great goals and I am sure she will fulfil her mission there with great passion and great heart.
Euronews: Miss Wittstock, what makes you go weak at the knees when you think of your husband to be?
Prince Albert: I will put my fingers in my ears and I won't listen…
Charlene Wittstock: He is an extremely compassionate, caring, loving, fun person to be with, and I would say that if even we did not walk this route together we would still be the best of friends and he really is one of my best friends. He is someone I can rely on and he gives me his honest opinion his honesty and… what more can I say he is right here!
Euronews: I really wish you all the very very best. Thanks you so much for giving us a bit of your time.