Ukraine and Lithuania shun OSCE meeting in Austria over Russian presence
Comments
By Euronews with AP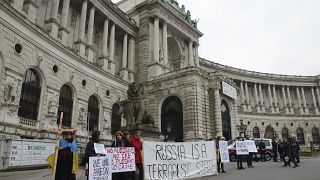 -
Copyright

AP Photo/Heinz-Peter Bader
Austria's decision to allow Russians to travel to Vienna for a session of the Organization for Security and Cooperation in Europe (OSCE) Assembly has led to international protest.
The meeting got underway on Thursday without the Ukrainian delegation, which described the planned presence of Russian lawmakers as "an affront". 
Austria granted the Russians visas even though they are under European Union sanctions and despite protests from 20 countries including Britain, France and Canada.
Ukraine and Lithuania are boycotting this week's event in Vienna. 
"Our members of the parliament do not want to sit in the same room or in the same building where there are Russian representatives who instigated, supported and they continue to promote war in Ukraine," said Vaidotas Verba, Lithuanian Ambassador to the OSCE. 
"More than 80 members of parliament from 20 countries wrote a letter to the leaders of the Austrian parliament and government asking specifically not to issue visas and reconsider this decision."
A Slovak delegate read out a statement from the Ukrainian delegation, which said that "the presence of these warmongers in Vienna is an affront to everything that the OSCE stands for".
"They are not here for genuine dialogue nor for cooperation," it added. "They are here to spread their propaganda ... they are here to try and justify the war crimes they have committed and desecrate the principles of international law and human decency."
While Poland and the UK have recently refused Russian parliamentarians to travel to their OSCE events, Austria is taking a different approach.
As the official seat of the OSCE, the Alpine country is obliged under international law to issue visas to all delegations, according to the government. Vienna also wants to maintain dialogue.
"The OSCE is a central platform for diplomacy and for ongoing dialogue among all participating states. Russia and Ukraine continue to be participating states. It is, I think, right and important that this platform for dialogue keeps being supported," said Gabriele Juen, spokesperson for Austria's Foreign Ministry.
"Exactly on the anniversary of the beginning of the war in Ukraine, Russian and Western parliamentarians will now meet here at the OSCE headquarters in Vienna. Originally, the world's largest regional security organisation was founded to prevent such a war from happening in the first place," said Euronews reporter Johannes Pleschberger in Vienna. 
The Vienna-based OSCE, whose 57 member states include both Ukraine and Russia, was created during the Cold War as a platform for dialogue between East and West.
The group has a wide-ranging mission, including peace, human rights, arms control and other security issues.
Watch the video in the player above.