US and Germany ready to send tanks to Ukraine, according to reports
Comments
By Mario Bowden with AP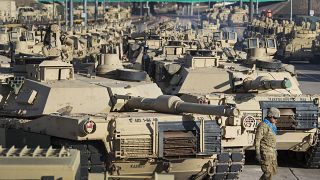 Copyright

Christian Murcock/NO SALES MAGS OUT

-
International reluctance to ramp up tank and military supplies appears to be eroding. According to reports, it is now believed the Biden administration is willing to make a U-turn and approve sending M1 Abrams tanks to Ukraine.
The White House on Tuesday however refused to confirm such reports.
Asked about it at the White House briefing, press secretary Karine Jean-Pierre said she didn't "have anything to share." But she underscored that the Pentagon "never ruled out tanks."
"I just want to make that very clear. I think what my colleagues at the DOD (Department of Defence) have said in the past, well very recently, is that there's there were always challenges with tanks, but not going to preview anything," she said.
Pentagon press secretary Gen. Pat Ryder added that they "had nothing to announce today in terms of the M1s", but added that "we continue to have a very robust dialogue with Ukraine and our international allies and partners to focus on what their immediate battle-term battlefield needs are now in the near term."
Germany also to give green light to send tanks
The US announcement is expected in coordination with an announcement by Germany that it will approve Poland's request to transfer German-made Leopard 2 tanks to Ukraine, according to one official.
The report which broke by Der Spiegel in Germany, says Berlin is planning to supply at least 14 Leopard 2 A6 tanks.
Germany has been reluctant to make a move so far, saying that it would not supply western tanks to Ukraine with any agreement with Kyiv's main allies, particularly the United States.
Earlier this week, Germany's Foreign Minister Annalena Baerbock said her government wouldn't "stand in the way" if Poland were to give Leopard 2 tanks to Ukraine without its authorisation.
Poland had been urging Germany to make a decision regarding the supply of the highly-sophisticated armoured vehicles – a point echoed and amplified by Ukrainian president Volodymyr Zelenskyy.
"It is not about five, or ten, or fifteen tanks. The need is greater. We are doing what is necessary every day to fill the deficit. I thank everyone who supports us in this. However, discussions must end with decisions. Decisions on strengthening our defence against terrorists," Zelenskyy says.
Kyiv expects the fighting to intensify and says these tanks would provide more protection and mobility.
Watch our Euronews report in the video player above.