Finland's president suggests pause on trilateral talks with Turkey over NATO bid with Sweden
Comments
By Mario Bowden with AP, AFP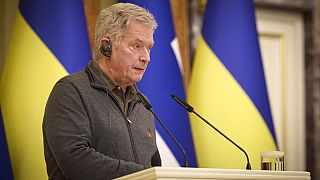 -
Copyright

AP/Ukrainian Presidential Press Office
Finland's president is calling for a pause on trilateral talks with Turkey over its NATO bid together with Sweden.
"About the NATO membership, we have to take it calmly and we have to wait for the elections in Turkey to take place," president Sauli Niinisto said. Turkey's parliamentary elections are not due until mid-June 2023.
It follows the Finnish Foreign Minister Pekka Haavisto who on Tuesday hinted that Helsinki was thinking about joining the military alliance without Sweden.
Haavisto said that both Nordic nations joining NATO together was "absolutely the number one option," but that "we have to be ready to evaluate the situation."
He was later asked to clarify on his comments at a hastily prepared press conference. Haavisto conceded that he had been "imprecise", adding that Helsinki was merely planning for every potential outcome that might unfold in the application process – including a solo push forward in its own NATO bid.
The stance also follows Turkey's move to stall Sweden's bid, in an angry reaction to an anti-Turkey protest that took place in Stockholm. The protest sparked outrage in Turkey after a Danish extremist burned a copy of the Quran outside the Turkish Embassy in the Swedish capital.
The latest hold-up raises doubts about the two Nordic nations becoming NATO members together.
Sweden calls for a return to the drawing table
In a bid to cool tensions with Ankara, Swedish Prime Minister Ulf Kristersson says that he wants to re-establish "dialogue" with Turkey.
"I want to urge for calm in this process because I want to return to functioning talks on the issues where we agreed that we have made progress. Sweden and Finland and Turkey have a trilateral agreement and it is going well. It is obvious that we do not think alike on all issues. We have different legislation in our countries," Kristersson says.
Kristersson continues: "I think, as someone said, I would have two thoughts in my head: we are fully committed to Swedish freedom of expression and we are very keen to complete NATO membership together with Finland."
Both Sweden and Finland launched their bid to join NATO when Russia invaded Ukraine nearly a year ago.
Turkey however has refused to approve their bid until the two countries take steps, including joining Turkey's fight against banned Kurdish militants.
Watch the video in the player above.