Slovakia charges two suspects with spying for Russia
Comments
By AP with Euronews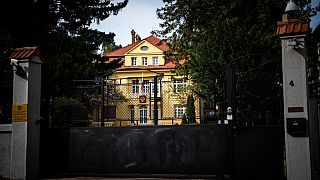 Copyright

VLADIMIR SIMICEK / AFP

-
Slovakian authorities say they have broken up a Russian spying network that was looking for information about NATO and Ukraine.
Police and prosecutors said on Tuesday that four Slovak nationals have been detained in the unprecedented case.
Prosecutor Daniel Lipsic said two suspects face charges of spying and bribery and could be imprisoned for up to 13 years.
"We're talking about serious cases," Lipsic said. "It's about a long term, paid cooperation with the Russian military intelligence service (GRU)".
The suspects are alleged to have gathered highly sensitive, strategic and classified information about Slovakia, its armed forces and NATO.
They are accused of passing on this information to undercover GRU officers based at the Russian Embassy in Bratislava, in exchange for money.
Lipsic said the suspects received tens of thousands of euros from the Russian spies.
"The information the Russian intelligence service was looking for also involved Ukraine," Lipsic said at a news conference on Tuesday.
A day earlier**,** Slovakia's Foreign Ministry said it would expel three Russian diplomats for alleged spying and bribery.
The ministry said in a statement that the decision was made after officials had assessed information from the country's intelligence services.
The three diplomats were based at the Russian embassy in the capital of Bratislava but must now leave the country by Thursday.
Slovakia's ministry said the suspects had violated the "Vienna Convention on diplomatic relations".
The ministry said it has also strongly urged the Russian embassy to make sure the activities of their diplomats were in line with the convention, which both countries are obliged to do.
The expulsions come amidst tensions between Moscow and the West over Russia's invasion of Ukraine on 24 February. Russia said it would respond to what it called an "unjustified" expulsion.
Earlier this month, Bulgaria also expelled two Russian diplomats for alleged espionage.