Ukraine war: Huge Russian convoy advances on Kyiv as Moscow sanctions begin to bite
Comments
By Euronews with AFP, AP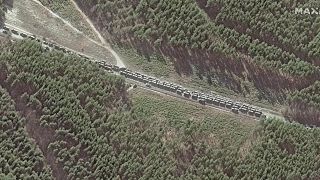 -
Copyright

Satellite image ©2022 Maxar Technologies via AP
Russian forces closed in on the capital, Kyiv, on Monday night in a 25-kilometre convoy of hundreds of tanks and other vehicles. 
The number of civilian casualties continues to rise as Russian forces bombard Ukrainian cities, and the UN says half a million people have now fled abroad.
The chief prosecutor of the International Criminal Court says he plans to open an investigation "as rapidly as possible" into possible war crimes and crimes against humanity in Ukraine.
Monday saw a series of intensified sanctions and bans on Russian economic and sporting activity, leaving Vladimir Putin increasingly isolated on the world stage.
See our blog below for a summary of Monday's updates:
02.28.2022
06:34
Monday's key developments:
The chief prosecutor of the International Criminal Court (ICC) has said he plans to investigate possible war crimes and crimes against humanity in Ukraine.
Talks between negotiators from Ukraine and Russia on the Belarusian border ended with both sides pledging to meet again. The delegation from Kyiv called for an immediate ceasefire and the withdrawal of Russian forces. Expectations for progress are low.
The UN General Assembly held a rare emergency session, which brought more condemnation of Russia and calls for a ceasefire.
There are fears of many civilian casualties in Ukraine's second city Kharkiv as Russian strikes continue. Hundreds are estimated to have been killed in Ukraine since last week. The EU's chief diplomat says Russia's invasion is becoming "more ruthless" but Ukrainian cities are resisting.
FIFA has banned Russia from the World Cup in Qatar. A joint statement from the world football body and Europe's UEFA  said Russia national and club teams would be banned "until further notice" in response to the invasion of Ukraine.
The Russian ruble plunged 30% against the US dollar before recovering slightly. It came after Western nations moved to block some Russian banks from the SWIFT international payment system and to restrict Russia's use of its massive foreign currency reserves. 
Ukraine's President Zelenskyy applied to join the EU in a symbolic move, shortly after calling for "immediate" membership. Brussels has hinted at differences of opinion within the bloc.
More than half a million people have now fled Ukraine for neighbouring countries, according to the UN High Commissioner for Refugees (UNHCR). Read our story here.

Recap: Putin put Russia's nuclear arsenal on "special" alert on Sunday. Review all that day's developments in our blog here.
02.28.2022
23:21
That's all from our live blog on Monday. Join us from 0600 CET on Tuesday for more latest updates.
02.28.2022
23:05
Russian forces shell Kharkiv and menace Kyiv
Russian forces shelled Ukraine's second-largest city of Kharkiv on Monday, rocking a residential neighborhood, and closed in on the capital, Kyiv, in a 25-kilometre convoy of hundreds of tanks and other vehicles.
As talks along the Belarusian border wrapped up, several blasts could be heard in Kyiv, and Russian troops advanced on the city of nearly three million. The convoy of armoured vehicles, tanks, artillery and support vehicles was 25 kilometers from the centre of the city, according to satellite imagery from Maxar Technologies.
Video from Kharkiv, meanwhile, showed residential areas being shelled, with apartment buildings shaken by repeated, powerful blasts. Flashes of fire could be seen and gray plumes of smoke.
Footage released by the government from Kharkiv depicted what appeared to be a home with water gushing from a pierced ceiling. What looked like an undetonated projectile was on the floor.
Authorities in Kharkiv said at least seven people had been killed and dozens injured. They warned that casualties could be far higher.
The Russian military has denied targeting residential areas despite abundant evidence of shelling of homes, schools and hospitals.
Fighting raged in other towns and cities across the country. The strategic port city of Mariupol, on the Sea of Azov, is "hanging on," said Zelenskyy adviser Oleksiy Arestovich. An oil depot was reported bombed in the eastern city of Sumy.
02.28.2022
22:55
Shell to exit Gazprom ventures and Nord Stream 2
The British oil giant Shell has said it will part with its shares in several joint projects with the Russian group Gazprom in Russia, due to the Russian invasion of Ukraine, following
the example of its compatriot BP
.
Like the latter, Shell had maintained a presence in Russia over the past two decades despite growing geopolitical tensions, sometimes suffering setbacks but maintaining cordial relations with the authorities. It invested in the controversial Nord Stream 2 gas pipeline, which it now intends to offload.
02.28.2022
22:46
Canada to supply weapons to Ukraine and ban Russian oil imports
Canada will be supplying Ukraine with anti-tank weapons systems, upgraded ammunition and is banning all imports of crude oil from Russia.
Prime Minister Justin Trudeau says the shipments are addition to the three previous shipments of lethal and non-lethal equipment. Canada announced this week it would be sending new shipments of military supplies, including body armor, helmets, gas masks, and night-vision goggles.
Canada does not import much oil from Russia.
Trudeau called for the end to the war, saying its costs would only grow grow steeper and that those responsible will be held accountable. (AP)
02.28.2022
22:33
EU slaps sanctions on 26 more Russians
The European Union has slapped sanctions on 26 more Russians, including oligarchs, senior officials and an energy insurance company, in response to the country's invasion of Ukraine, bringing the total of people targeted to 680.
EU headquarters said those listed include "oligarchs and businessmen active in the oil, banking and finance sectors," government officials, top military brass and "propagandists who contributed to spread anti-Ukrainian propaganda and promote a positive attitude towards the invasion of Ukraine."
The bloc had already imposed an asset freeze on President Vladimir Putin and Foreign Minister Sergey Lavrov. No travel ban was imposed to allow the two men to take part in any diplomatic efforts, should Russia consider bringing an end to the war on its former Soviet neighbor.
EU sanctions now apply to a total of 680 people and 53 entities, which are usually organizations, agencies, banks or companies. Gas Industry Insurance Company SOGAZ was listed Monday. (AP)
02.28.2022
22:30
Ukrainian Orthodox bishops call for end to war
Ukrainian Orthodox bishops are calling on their superior in Moscow to urge Russia's leadership to stop the war in Ukraine.
The Holy Synod – the governing body of bishops of the Ukrainian Orthodox Church -- asked Moscow Patriarch Kirill to call on Russian leaders to stop hostilities. The appeal shows a growing chasm between Patriarch Kirill, leader of the Russian Orthodox Church, and his own bishops in Ukraine over the war.
Patriarch Kirill has long had friendly ties with Russian President Vladimir Putin. In statements to date, he has called for an end to "fratricidal" war in Ukraine, but he has not assigned blame for the conflict and has emphasized a call for Orthodox unity.
While the Ukrainian Orthodox Church is under the ultimate authority of Kirill, it also enjoys considerable autonomy. Its synod also called for divine intervention on behalf of Ukraine's army. (AP)
02.28.2022
22:26
Brussels welcomes Switzerland's adoption of EU sanctions against Russia
Switzerland on Monday endorsed the EU's entire package of economic sanctions of the European Union against Russia, shocked by the brutality of Moscow's assault on Ukraine while ensuring to preserve its neutrality.
Full story here:
Brussels welcomed the Alpine nation's departure from its traditional neutrality, saying that without Switzerland the measures would have been "less effective".
02.28.2022
21:52
Meta to restrict access to RT and Sputnik across EU
Facebook's owner says it's responding to requests from governments and the EU to clamp down on Russian-controlled media.
Meta's vice-president for Global Affairs Nick Clegg has said on Twitter that access to RT -- formerly known as Russia Today -- and Sputnik will be restricted across the EU, without giving more details.
On Sunday European Commission President Ursula von der Leyen said both channels would be banned from broadcasting in the EU. But this would not cover social media.
Earlier, the UK regulator Ofcom said it was opening 15 investigations into RT's programming over an alleged lack of impartiality, which would be concluded urgently.
02.28.2022
21:39
ICC prosecutor to open probe into war crimes in Ukraine
The chief prosecutor of the International Criminal Court says he plans to open an investigation "as rapidly as possible" into possible war crimes and crimes against humanity in Ukraine.
Prosecutor Karim Khan said in a statement Monday night that the investigation will look at alleged crimes committed before the Russian invasion, but added that "given the expansion of the conflict in recent days, it is my intention that this investigation will also encompass any new alleged crimes falling within the jurisdiction of my office that are committed by any party to the conflict on any part of the territory of Ukraine."
The court already has conducted a preliminary probe into crimes linked to the violent suppression of pro-European protests in Kyiv in 2013-2014 and allegations of crimes in Crimea, which Russia annexed in 2014, and eastern Ukraine.
In December 2020, the then-ICC Prosecutor Fatou Bensouda said the probe uncovered indications that "a broad range of conduct constituting war crimes and crimes against humanity within the jurisdiction of the Court have been committed" in Ukraine. However, the court's prosecutors had not yet sought permission from judges to open a full-scale investigation.
Khan says he now will open the investigation envisaged by his predecessor and broaden it to include crimes committed in fighting since the Russian invasion of Ukraine last week. (AP)