Ukraine confirms case of polio in 18-month-old toddler
Comments
By Emil Filtenborg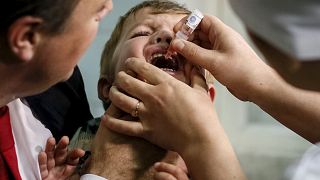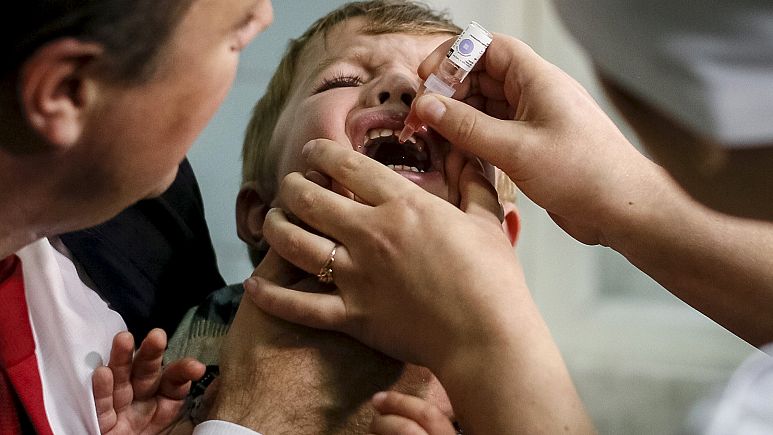 -
Copyright

Credit: Gleb Garanich/REUTERS
Ukraine has confirmed a case of polio.
The country's health ministry said it had been found in an 18-month-old toddler in Rivne Oblast, near the border with Belarus.
It said the youngster had been hospitalised with "symptoms of being paralysed".
"The disease is caused by a derivative of the vaccine strain of polioviruses type 2 (Sabin 2)," the health ministry statement read.
"The parents deliberately refused medical vaccinations because of their religious beliefs."
Polio has been eradicated in Europe since 2002.
The World Health Organization (WHO) confirmed that a poliovirus had been identified as the cause of paralysis in an unvaccinated 17-month-old girl in Ukraine's Rivne province, and that it had been kept informed by the Ukrainian authorities.
"WHO is working closely with the health authorities in Ukraine and our partners in the Global Polio Eradication Initiative to determine if there has been any local transmission and to assess the risk of local circulation," said Catharina de Kat of the WHO Regional Office for Europe.
In 2015, Ukraine confirmed further cases of polio in two children -- one aged 10 months the other four -- which the World Health Organization said was Europe's first outbreak in five years.
Vaccine scepticism and mistrust in government is combining to deadly effect in Ukraine amid he coronavirus pandemic.
The country has seen COVID-19 cases and deaths surge in recent weeks, with vaccination rates a fraction of those seen elsewhere in Europe. Ukraine has only inoculated 14% of its population, compared to around 63% in the EU and 52% in Europe as a whole.
The government has been blamed for a poor rollout, but the low vaccine take-up has also been attributed to a general mistrust of government and authority.