Coronavirus: Our COVID-19 vaccine is 90% effective, says Pfizer
Comments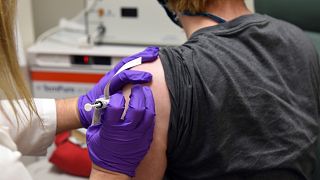 -
Copyright

Courtesy of University of Maryland School of Medicine via AP
A potential COVID-19 vaccine being developed by Pfizer and BioNTech has been found to be more than 90% effective.
The vaccine has been tested on more than 43,500 participants during Phase 3 — the final stage of development when it is given to thousands to test its efficacy and safety.
Analysis carried out evaluated that 94 trial participants had been confirmed to have contracted COVID-19.
"Today is a great day for science and humanity," Pfizer Chairman and CEO, Dr Albert Bourla, said in a statement.
"We are reaching this critical milestone in our vaccine development program at a time when the world needs it most with infection rates setting new records, hospitals nearing over-capacity and economies struggling to reopen. With today's news, we are a significant step closer to providing people around the world with a much-needed breakthrough to help bring an end to this global health crisis. We look forward to sharing additional efficacy and safety data generated from thousands of participants in the coming weeks," he added.
But UK Prime Minister Boris Johnson was more cautious.
"If the Pfizer vaccine passes all the rigorous safety checks and is proved to be effective, then we will begin a UK wide NHS-led programme of vaccine distribution.
"I must stress that these are very, very early days. We've talked for a long time or I have about the distant bugle of the scientific cavalry coming over the brow of the hill. I can tell you that tonight that toot of that bugle is louder, but it's still some way off.
"We absolutely cannot rely on this news as a solution. And the biggest mistake we could make now would be to slacken our resolve at a critical moment."
The trial will continue until 164 COVID-19 cases amongst participants are confirmed in order to collect further data and evaluate the vaccine's performance against some other targets.
These include whether it offers protection for those who have had prior exposure to the virus and how many confirmed cases are accrued 14 days after participants are given the second dose — the vast majority of participants received their second shot on November 8.
As such, the final vaccine efficacy percentage may vary.
The companies said they expect to apply for Submission for Emergency Use Authorization (EUA) to the US Food and Drug Administration (FDA) before the end of the month.
They forecast production of up to 50 million doses in 2020 and up to 1.3 billion in 2021.
A vaccine is seen as the best shot of controlling the pandemic although health authorities have stressed that it is no "silver bullet", especially given that not everyone will be able to be vaccinated at the same time.
The European Union, which has struck advance purchase agreements with several vaccine manufacturers, has, for instance, said that vaccines will be deployed across member states based on population size and that certain groups — healthcare professionals, essential workers, people over the age of 60 and those with certain pre-existing conditions — will be prioritised.
There are currently 47 candidate vaccines in clinical evaluation, according to the World Health Organisation (WHO). Only about 10 are in Phase 3.
Pfizer and BioNTech's vaccine uses an experimental, cutting edge approach in which genetically engineered piece of the virus is injected to generate a protein that then prompts an immune response.
More than 1.2 million people are known to have died from COVID-19 around the world since the beginning of the pandemic, according to a tally by Johns Hopkins University. A further 50.5 million have been infected.
WHO chief Tedros Adhanom Ghebreyesus welcomed "the encouraging vaccine news" from Pfizer and BioNTech, as did US President-elect Joe Biden.
"I congratulate the brilliant women and men who helped produce this breakthrough and to give us such cause for hope," Biden wrote in a statement.
He nonetheless highlighted that even if the vaccine was approved by regulators this month, "the end of the battle against COVID-19 is still months away."
"America is still losing over 1,000 people a day from COVID-19, and that number is rising — and will continue to get worse unless we make progress on masking and other immediate actions. That is the reality for now, and for the next few months. Today's announcement promises the chance to change that next year, but the tasks before us remain the same," he added.