Russia accused of trying to steal COVID-19 vaccine research
Comments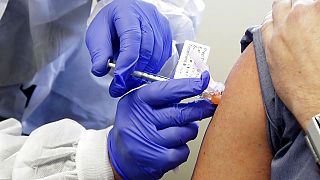 -
Russia has been accused of trying to steal information from researchers seeking a COVID-19 vaccine.
Britain, the United States and Canada allege hacking group APT29, also known as Cozy Bear and said to be part of Russian intelligence, is attacking academic and pharmaceutical research institutions involved in coronavirus vaccine development.
"It is completely unacceptable that the Russian Intelligence Services are targeting those working to combat the coronavirus pandemic," said UK foreign affairs minister Dominic Raab.
"While others pursue their selfish interests with reckless behaviour, the UK and its allies are getting on with the hard work of finding a vaccine and protecting global health.
"The UK will continue to counter those conducting such cyber attacks, and work with our allies to hold perpetrators to account."
The persistent and ongoing attacks are seen by intelligence officials as an effort to steal intellectual property, rather than to disrupt research.
It was unclear whether any information actually was stolen but the centre says individuals' confidential information is not believed to have been compromised.
Earlier, Raab accused Russian actors of meddling in the UK's 2019 election by acquiring sensitive trade documents and leaking them on social media.
"It is almost certain that Russian actors sought to interfere in the 2019 General Election through the online amplification of illicitly acquired and leaked Government documents," Raab said in a written statement to parliament.
Raab added that "sensitive" documents relating to a UK-US Free Trade Agreement were fraudulently acquired and disseminated online via the social media platform Reddit and that further attempts to promote them were made when they failed to garner much attention.
Jeremy Corbyn, at the time Labour's candidate for prime minister, said a month before the ballot that the leaked documents proved the Conservative government planned to include the National Health Service in a future trade deal with the US.
Raab told parliamentarians that "whilst there is no evidence of a broad spectrum Russian campaign against the General Election, any attempt to interfere in our democratic processes is completely unacceptable.
"The Government reserves the right to call out and respond with appropriate measures in the future," he went on.
Raab's statement comes as the Intelligence and Security Committee announced on Thursday that it will release its long-awaited report on Russian interference in the 2016 referendum on EU membership and the following 2017 general election.