Euronews Debates: EU needs a more unified approach to travel after COVID-19, say tourism chiefs
Comments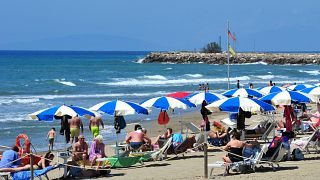 -
Europe's travel and tourism sectors are among the biggest economic casualties of the COVID-19 pandemic, facing plummeting revenues.
The easing of lockdown measures will play a key role in salvaging the summer season but with each country impacted differently, holidaymakers are faced with a complicated patchwork of rules and guidance.
During a recent live debate organised by Euronews about the future of travel, EU tourism leaders called for a more unified approach.
"We really need to have an integrated approach. That's not happening. That's why member states are negotiating amongst themselves," said Rita Marques, Portuguese Secretary of State for Tourism, referring to the fact that some EU countries have begun striking travel deals between themselves, so-called "travel corridors".
"The Commission should take the lead in order to harmonise all the travel-related rules," added Marques.
There is fear in Brussels that the current approach could lead to more division in Europe.
"Bilateral and multilateral agreements between countries create a lot of fragmentation," Eduardo Santander, executive director of the European Travel Commission, told Euronews during the live discussion. "Maybe it's an opportunity for the European Union to play the referee… I think it's the first time the member states are asking the Commission to rule. This fragmentation is costing more jobs, costing more financial crisis and costing more pain both for demand and supply."
The EU has set out guidelines for a common approach on how to lift restrictions on borders but there are no fixed rules. Matthew Baldwin, deputy director-general of DG MOVE at the European Commission, stressed a unified approach doesn't mean the transition will be harmonised: "We recognise not everyone's going to do everything at the same time. It's not going to be possible. So as we reopen internal and external borders, as we reopen transport and tourism, three words I'd like to suggest for you, coordination, transparency and non-discrimination."
On the subject of travel corridors, Baldwin warned about the risk of discrimination, "The absolutely vital thing for us is that any restrictions or indeed any bubbles are based on public health considerations and not on nationality. This is absolutely critical."
To help Europeans navigate the murky waters of travel rights and restrictions post-COVID, the EU is launching a website and app with all the latest information from member states and travel operators. The tool is intended to give people access to reliable and easy to understand data and protocols but also to build back trust in travel and tourism again.
"This is a crisis also of confidence, of trust," Santander told Euronews. "You want to go to a place if you are going to feel safe, your family's going to be good, you're going to be having fun. If all these facts are not granted, you probably will not go on holiday again.
Watch the full debate by clicking on the video player above