Russia, Lithuania and Norway conduct three-way spy swap
Comments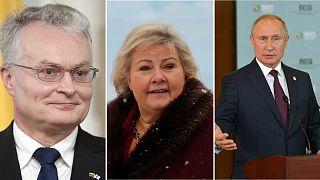 A three-country spy swap between Russia, Lithuania and Norway has been conducted, officials say. 
It happened on Lithuania's border with Russia.
Five people were freed as part of the operation on Friday, according to the head of Lithuania's counterintelligence.
Two Russian nationals were exchanged for two Lithuanians and one Norwegian.
It came after Lithuanian president, Gitanas Nausėda, confirmed earlier in the day that he had pardoned the two Russians — Nikolai Filipchenko and Sergei Moisejenko — that had been jailed for espionage since 2017.
The former was serving a ten-year sentence after being found to be a member of Russia's FSB and for trying to recruit senior officials in Lithuania, while the latter was serving a sentence of ten years and six months for recruiting an officer.
Nausėda's pardon of the two men on Friday cited a specific article in the country's criminal code that came into effect this week — and is in regard to an exchange process of foreign spies.
According to Lithuania's BNS news service, it was the result of weeks of negotiations between Lithuania, Russia and Norway.
In response, Russia released two Lithuanians — Yevgeny Mataitis and Aristidas Tamosaitis — who were jailed for spying in 2016.
It also released Frode Berg, a Norwegian border guard who was convicted in 2017.
His lawyer said an "exact time [was] not decided" on when Berg, who was handed over to Norwegian authorities in Lithuania, will be taken back to Norway.