GOP criticizes Trump on overseas moves, but not on his conduct at home
Comments
By Chuck Todd and Mark Murray and Carrie Dann with NBC News Politics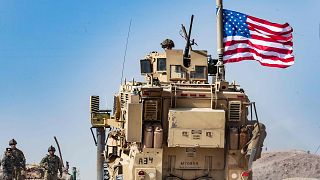 -
Copyright

Delil Souleiman AFP - Getty Images
WASHINGTON — Well, we've learned that Republicans are willing to break from — and criticize — President Trump.
It's just on the issue of foreign policy and war — not his conduct in office.
That's maybe the best way to view the bipartisan condemnation of Trump's order to withdraw the U.S. military from northern Syria, allowing Turkey to move into the country with its long-planned military operation.
"I feel very bad for the Americans and allies who have sacrificed to destroy the ISIS Caliphate because this decision virtually reassures the reemergence of ISIS. So sad. So dangerous," Sen. Lindsey Graham, R-S.C., tweeted.
Graham added, "By abandoning the Kurds we have sent the most dangerous signal possible - America is an unreliable ally and it's just a matter of time before China, Russia, Iran, and North Korea act out in dangerous ways."
Senate Majority Mitch McConnell said the move "would only benefit Russia, Iran, and the Assad regime."
And former UN Ambassador Nikki Haley said, "the Kurds were instrumental in our successful fight against ISIS in Syria. Leaving them to die is a big mistake. #TurkeyIsNotOurFriend."
But Republicans who are shocked/shocked that Trump would benefit Turkey and Russia should ask themselves:
Who has Trump's ear on foreign-policy decisions?
And why do so many of the president's statements and goals often align with Russian foreign-policy priorities?
That's one of the potential links between this Syria move and the ongoing Ukraine story.
Portman chides Trump on Ukraine/China, but says they're not impeachable offenses
Yet there have been a handful of Republicans who have criticized Trump over the Ukraine story. The latest was Sen. Rob Portman, R-Ohio.
"The president should not have raised the Biden issue on that call, period. It's not appropriate for a president to engage a foreign government in an investigation of a political opponent," he told the Columbus Dispatch.
But Portman also stressed that the call didn't appear to be an impeachable offense. "I don't view it as an impeachable offense. I think the House frankly rushed to impeachment assuming certain things," he added.
So far, you have Mitt Romney, Ben Sasse, Susan Collins and Rob Portman all criticizing the president on this Ukraine story - or for asking China for help in investigating the Bidens.
And that's about it.
Other developments in the impeachment probe
A majority of Americans — 58 percent — say they support the impeachment inquiry, and 49 percent back Trump's removal from office, according to a Washington Post-Schar School poll released this morning.
And this just happened at publication time: Gordon Sondland, Trump's ambassador to the European Union, said he had been directed by Trump's State Department not to appear for his deposition on the Ukraine matter.
NBC's Geoff Bennett has the statement from Sondland's attorney: "Early this morning, the U.S. Department of State directed Ambassador Gordon Sondland not to appear today for his scheduled transcribed interview before the U.S. House of Representatives Joint Committee. Ambassador Sondland had previously agreed to appear voluntarily today, without the need for a subpoena, in order to answer the Committee's questions on an expedited basis. As the sitting U.S. Ambassador to the EU and employee of the State Department, Ambassador Sondland is required to follow the Department's direction."
Sondland, remember, is the official caught on those text messages regarding Ukraine.
Ukraine embassy official Bill Taylor on Sept. 9: "As I said on the phone, I think it's crazy to withhold security assistance for help with a political campaign."
Sondland: "Bill, I believe you are incorrect about President Trump's intentions. The President has been crystal clear no quid pro quo's of any kind. The President is trying to evaluate whether Ukraine is truly going to adopt the transparency and reforms that President Zelensky promised during his campaign I suggest we stop the back and forth by text."
NBC's Kristen Welker raises a good question: Why was Trump's ambassador to the European Union involved on Ukraine — when it isn't an EU country?
2020 Vision: Klobuchar rakes in nearly $5 million for the quarter
Amy Klobuchar's campaign announced on Monday that it raised $4.8 for the third fundraising quarter.
It was more than Klobuchar raised in the previous quarter, but it's also less than half of what Andrew Yang brought in.
Here are the all the fundraising numbers we know of so far:
Sanders: $25.3 million (up from $18 million in the 2nd Q)
Buttigieg: $19.1 million (down from $24.9 million)
Biden: $15.2 million (down from $22 million)
Harris: $11.6 million (down from $11.8 million)
Yang: $10 million (up from $2.8 million)
Booker: $6.0 million (up from $4.5 million)
Klobuchar: $4.8 million (up from $3.9 million)
Williamson: $3 million (up from $1.5 million)
Bennet: $2.1 million (down from $2.8 million)
On the campaign trail today
Kamala Harris stumps in Iowa… Cory Booker and Tulsi Gabbard also hit the Hawkeye State… And Michael Bennet is in New Hampshire.
Dispatches from NBC's embeds
Michael Bennet took several swings at Medicare for All while campaigning in New Hampshire, per NBC's Amanda Golden. "I just don't see the American people signing on to a plan that raises taxes to a level that are an equivalent of 70 percent of all the federal revenue we are going to collect over the next 10 years," Bennet said. He went on to take a direct swipe at Bernie Sanders, saying there was a reason Medicare for All "didn't happen in Vermont." Bennet also predicted that President Trump would use Medicare for All to claim the Democrats were socialists: "He said 'I'm defending Medicare from these Bolsheviks that are trying to take it away from you and by the way, didn't all of you spend your whole life trying to get to a point when you're 65 you can retire in peace and have Medicare and now all these other people coming in.' The thing, the ads write themselves."
Cory Booker toured the Cultivate Urban Farm in Iowa, where NBC's Priscilla Thompson picked up on Booker's campaign tactics: "He knows the movers and shakers in the room. Some candidates when they speak will hold a note card to thank the county chairs and community leaders in the room. Booker, on the other hand, will spend the first 10 minutes of his remarks sharing stories of personal interactions with his host or with familiar leaders in the room. He has racked up more Iowa endorsements than any other candidate and a lot of this has to do with the time he's spent here campaigning on down ballot races."
Tweet of the day
Data Download: The number of the day is … $984 billion
$984 billion.
That's the estimated U.S. government budget deficit in the just-completed fiscal year 2019, according to the Congressional Budget Office.
It's the highest in seven years — and it's more than $200 billion higher than the previous year, when the estimated deficit was $779 billion.
In March 2016, Trump promised in a Washington Post interview to eliminate the country's $19 trillion in debt over a period of eight years.
The Lid: What's in a name?
Don't miss the pod from yesterday, when we looked at new data about the share of Americans who identify with the Democratic or Republican parties.
ICYMI: News clips you shouldn't miss
House Democrats are hunting down a paper trail on the blocking of military aid to Ukraine. (And they're thinking of masking the whistleblower's identity from Trump's congressional allies.)
Courtney Kube and Carol Lee describe "chaos" in Syria and Washington as American forces try to make sense of Trump's troop decision. And Republicans are not being shy about their bewilderment about the move.
Morale at the State Department is… not great.
The Supreme Court is set to take on two important cases about federal protections for LGBT people.
Trump Agenda: Oops
Rick Perry's focus on the Ukrainian energy industry has him entangled in the impeachment mess.
Trump's company has canceled a gala planned at Mar-a-Lago by an anti-Muslim group.
Here's the latest on the China/NBA controversy.
The president is preoccupied with the idea of polygraphs, POLITICO reports.
2020: Can you take me high enough?
Biden is out with a new higher education plan.
Kamala Harris says she would vote in the Senate to remove Trump from office.
The Washington Post looks at how Trump's massive reelection campaign is a contrast with his 2016 operation.
A group of young progressives is taking on some of New York City's most prominent members of Congress.
The New York Times looks at Julian Castro's upbringing with an activist mother.