'Bob Mueller is struggling': The Democrats don't get their Trump gotcha moment
Comments
By Ken Dilanian with NBC News Politics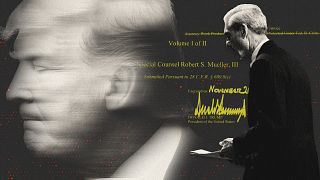 Copyright

Chelsea Stahl NBC News; Getty Images

-
WASHINGTON — Five hours into former special counsel Robert Mueller's Capitol Hill testimony Wednesday, Democratic Rep. André Carson asked him a series of questions about his report's assertion that a former Trump campaign chairman shared private polling information with a suspected Russian agent.
"Would you agree that these acts demonstrated a betrayal of the democratic values our country rests on?" Carson, from Indiana, asked the former FBI director.
"I can't agree with that," Mueller replied. "Not that it's not true, but I cannot agree with it."
That answer encapsulated Mueller's approach to his congressional testimony, and the result was a pair of hearings that may not have done much to change the divided public opinion about President Donald Trump's culpability in the Russia affair.
Mueller, portrayed for two years as a dangerously all-seeing investigator who posed a mortal threat to Trump's presidency, emerged into public view as a 74-year-old man whose demeanor, manner of speaking and command of the facts was markedly different from the other 88 times he has appeared before Congress.
While Mueller refuted Trump's assertion that the report exonerated the president, and pushed back on the calumny that the Russian investigation was a hoax, he generally declined to pass judgment on the president's conduct, other than to call Trump's praise of WikiLeaks "problematic."
Even in peak form, Mueller was not an effusive witness. According to several people who used to work for him, he was not in peak form Wednesday. He said up front that he would not go beyond the language of his 448-page report. But he declined even to read passages of the report. And, surprisingly, he did not seem conversant in the details of his investigation, repeatedly referring questioners to the language of the report without saying in his own words what it meant.
"I don't know specifically, but if it's in the report, I support it," he said at one point, an answer he gave repeatedly as Democrats tried to get him to animate the dry words on a page.
Democrats had hoped Mueller would allow them to present, through his voice, the simpler, cinematic version of his complicated book. But he mostly refused to play along. "I can't adopt your characterization," he said to Rep. Joaquin Castro of Texas, who was trying to extract details on Trump's business negotiations with Moscow.
He spoke softly, and his goal at times seemed to be to answer as few questions as he could using the shortest phrases possible.
"Bob Mueller is struggling," tweeted Glenn Kirschner, who once worked for him as a prosecutor. "It strikes me as a health issue. We need only look at footage of his earlier congressional appearances to see the dramatic difference in his demeanor and communicative abilities."
"It's painful to watch," tweeted Mimi Rocah, an NBC News analyst and former federal prosecutor.
Mueller deflected or declined to answer almost 200 queries, and with a few exceptions he declined to push back against Republican lawmakers who methodically questioned the premise, integrity and accuracy of his investigation.
"With all reverence for Bob Mueller and his lifetime of career service … I have to say that far from breathing life into the report, he kind of sucked the life out of the report," Jeremy Bash, a Democrat, NBC News national security analyst and former chief of staff at the CIA and Pentagon, said on MSNBC.
"I thought he was boring," Bash continued. "I thought in some cases he was sort of evasive. He didn't want to explain or expand on his rationale. He seemed lost at times. He was flipping through the report, trying to find passages that members of Congress were reading to him. I thought it slowed things down. And I thought it really was a very ineffective defense of his own work."
The hearing began in a promising manner for Democrats with a sharp question from Judiciary Committee Chairman Jerry Nadler: "The president has repeatedly claimed that your report found there was no obstruction and that it completely and totally exonerated him. But that is not what your report said, is it?"
Mueller: "Correct, that is not what the report said."
But the exchanges quickly became more of a muddle. Mueller did not clearly explain why he decided his office could not make a decision about whether prosecutors believed the evidence supported a prosecution of Trump for obstruction of justice, were he not the president and immune from prosecution under Justice Department policy.
Under rapid fire questioning from Democrats, Mueller appeared to say at several points that he would have indicted the president on obstruction if not for that legal immunity. But he later walked that back, making clear, as the report said, that his office never performed the legal analysis to make that call.
"We did not make any determination as regards to [Trump's] culpability" on obstruction," Mueller said. "We did not start down that road."
Democrats were heartened when Mueller said Trump could be indicted after he leaves office. But that was never in question at the hearing. Whether there is evidence to make a case is another matter.
Republicans, meanwhile, methodically attacked Mueller's investigation, and Mueller for the most part declined to push back.
Mueller did not respond when Rep. Jim Jordan of Ohio said the FBI had "spied" on the Trump campaign, and suggested that Joseph Mifsud, the Maltese professor who told George Papadopoulos the Russians had Clinton emails, was a U.S. agent, not a Russian agent
Nor did he offer a refutation when Rep. John Ratcliffe of Texas argued that Mueller did not follow the special counsel regulations and that it was improper for Mueller to say the president had not been exonerated.
Rep. Guy Reschenthaler of Pennsylvania accused Mueller, in so many words, of being an unethical prosecutor. He called the Mueller report "un-American." When he finished, Mueller did not respond.
On only one occasion did Mueller become expansive in defense of his office, after Rep. Ben Cline, R-Va., talked about the Democratic political affiliation of some members of Mueller's team.
"We strove to hire those individuals that could do the job," Mueller said. "I've been in this business for almost 25 years, and in those 25 years, I have not had occasion once to ask somebody about their political affiliation. It is not done. What I care about is the capability of the individual to do the job and do the job quickly and seriously and with integrity."
And only once did Mueller appear to pass moral judgment on the behavior of those he investigated. When Democratic Rep. Mike Quigley confronted Mueller with Trump's many statements praising WikiLeaks, Mueller said, "Problematic is an understatement in terms of what is displayed in terms of giving some hope, or I don't know, some boost, to what is and should be illegal activity."
White House officials were exultant.
"The last three hours have been an epic embarrassment for the Democrats," White House press secretary Stephanie Grisham said after the morning's Judiciary Committee testimony.
"Robert Mueller confirmed what we already knew," the Trump campaign said in a statement. "No collusion, no obstruction, and the way President Trump has been treated is unprecedented."
Mueller appeared sharper during the afternoon session in front of the Intelligence Committee, which covered the Trump campaign's contact with Russia.
But Mueller made clear up front that his team did not assess whether there was damage to national security as a result of the Trump campaign's repeated contacts with Russians. And Mueller declined to answer most questions designed to spotlight what Democrats considered Trump's misconduct.
"What did you determine about the president's credibility?" Rep. Val Demings asked him in the sixth hour of his testimony.
"That," he responded, "I can't get into."