After fatal police shooting, Buttigieg expresses concern about minority relations
Comments
By Adam Edelman with NBC News Politics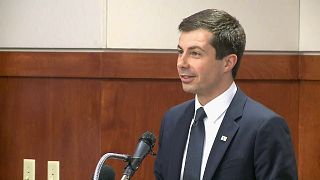 -
Pete Buttigieg, the mayor of South Bend, Indiana, has directed the city's police chief to order all officers keep their body cameras on at all times while interacting with the public, following a fatal officer-involved shooting last weekend.
The order, issued Tuesday night, came two days after a white police officer shot a black man. South Bend Police have said that the officer's body cam was not recording during the incident, something that has drawn concern from the victim's family members and community advocates.
In the wake of the shooting, Buttigieg, a 2020 Democratic presidential candidate, canceledseveral days of campaigning to stay in South Bend to deal with the incident, which comes at a time when he is attempting to make inroads with African American voters.
Speaking at a swearing-in ceremony on Wednesday for new South Bend Police Department officers, Buttigieg urged transparency and accountability from the department and lamented how the shooting could set back efforts the city had made in recent years in building trust with communities of color.
"One thing that is clear is that we all have to be as transparent as possible to deliver the accountability with fairness and to maintain the highest standards," Buttigieg said.
"I stand before you saddened and concerned because we've spent years working to build trust between city leaders, public safety officers and the community that we were all charged to serve. And now those same relationships that we have worked to build are in jeopardy," he said.
Buttigeig also discussed the many issues and obstacles that police officers, in South Bend and across the U.S., face that complicate peace keeping efforts — including mental health and race.
"We cannot pretend this is unrelated to race," he said. "In our past and our present, we have innumerable moments in which racial injustice came at the hands of those trusted with being instruments of justice and this fact burdens everyone, all of us."
Buttigieg's directive expands the body camera policy so that the cameras are activated "during all work-related interactions with civilians," including "non-emergency call responses and any time there is civilian contact in relation to a complaint." Previously, under a policy Buttigieg put in place in 2018,officers were required to "activate the recorder during all enforcement stops and field interview situations, and any other time the (officer) reasonably believes that a recording of an on-duty contact may be useful."
Early Sunday morning, South Bend Police Dept. Sgt. Ryan O'Neill was responding to reports of someone breaking into a car when he saw Eric Jack Logan inside a parked car. According to local reports, O'Neill engaged with Logan, Logan allegedly approached the officer with a knife and O'Neill fired at Logan, who was taken to a hospital and soon after pronounced dead. O'Neill was treated for minor injuries.
O'Neill's body camera was not running during the encounter and O'Neill failed to turn it on at any point, The South Bend Tribune reported.
The incident comes amid long-standing tensions in South Bend over policing. Earlier in Buttigieg's term, he demoted the city's first black police chief, Darryl Boykins, who had ordered the taping of phone calls of senior police officers he alleged made racist comments about him. Buttigieg said he demoted Boykins because he failed to disclose that the FBI was investigating him for inappropriately wiretapping subordinates. The demotion sparked a wave of criticism from the city's black community.