Venezuela: self-proclaimed president Guaido will 'review' possibility of amnesty for Maduro
Comments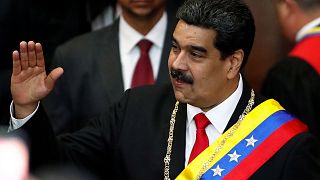 Copyright

REUTERS/Carlos Garcia Rawlins
Venezuela's opposition leader Juan Guaidó has hinted that an amnesty for Nicolas Maduro could be possible.
Guaidó, 35, declared interim president by the National Assembly on Wednesday, made the comments in an interview on American, Spanish-speaking channel Univision from an undisclosed location in the country's capital.
READ MORE: Who is Juan Guaidó, the self-proclaimed interim president of Venezuela?
"During transitional periods, similar things have happened ... we cannot exclude anything, but we must be very firm in the future ... above all to deal with the humanitarian emergency," he said.
"We should also review this (amnesty), he is also a civil servant, and unfortunately a dictator and responsible for yesterday's victims in Venezuela," Guaidó added.
On January 15, Parliament promised an "amnesty" for soldiers who did not recognise Nicolas Maduro's government.
Despite this offer of amnesty to the military, Guaido said members of the Maduro government who committed human rights violations should be punished.
"I do not intend to heal the wounds of 20 years, but nor do I intend to hide them," he said.
Amid large-scale demonstrations against Maduro, Guaidó, who is head of Venezuela's National Assembly, declared himself the country's acting president at a protest in Caracas.
Although, Maduro retains key support in the form of Venezuela's senior military officials.
The move has divided the international community -- the US offered its support to Guaidó, while the EU stopped short of officially recognising him.
READ MORE: Is Venezuela on the verge of a coup d'état? | Euronews Answers
The leader told Univision that he would soon announce measures for the weekend.
"We will continue to move forward to end the usurpation of power (and establish) a transitional government and free elections," he said.
Demonstrations in Venezuela killed 26 people in four days, according to the NGO Observatorio Venezolano de Conflictividad Social.
Find out more about the situation in Venezuela in the video player above.