Transgender people lack access to basic healthcare in UK, says British MP
Comments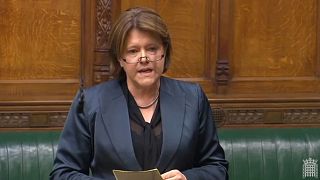 Transgender people lack access to basic healthcare in the UK, according to a senior British MP.
Conservative Maria Miller accused the UK government of "mishandling" their approach to trans issues on Wednesday when she addressed the Press Association.
Miller said transgender patients are underserved and explained how some transgender men had been unable to get cervical smear tests, for instance.
Miller, who also chairs the women and equalities committee, also cited there's been little movement on the Gender Recognition Act (GRA), a policy that welcomed consultation for reforms last year.
According to Amnesty International's statement on the GRA:
"The GRA allows (some) trans people to change their legal gender on birth certificates.
Amy Challenor, who came out as trans aged 16, said she was concerned about her care when she had to wait for two years to be transferred to an adult clinic.
"You get increasingly panicked over, 'Is this care going to be in place, it is going to continue?'" Challenor told Reuters.
And now, at the age of 21, she said she self-medicated dor nine months in 2017 with oestrogen and a testosterone blocker.
Trans people need to be diagnosed with gender dysphoria in Britain to legally change their gender. They also need to provide proof that they have lived in their new gender for two years.
And according to a 2018 survey by LGBT+ charity Stonewall, two in five trans people said they had dealt with medical staff who they felt had not understood their needs.
Debbie Hayton, a teacher, said that in 2012 she asked for psychiatric help. Within 18 weeks she was referred to a medical professional but she waited a further two years before she underwent her gender confirmation surgery.
"The unprecedented rise in demand was not being addressed at all," she said.
Referrals to gender clinics treating trans adults increased by 240% in five years, according to James Palmer, a medical director at NHS England.
Amnesty International said that for trans people, having their "gender legally recognised is critical to be able to live freely, authentically and openly."
It added that transphobia and prejudice in the press have both added to Britain dropping from third to fourth in the European LGBTI rights rankings.
A spokesperson for the UK government said: "Our ambitious LGBT Action Plan – announced last year and backed by £4.5m – committed to putting LGBT people's needs at the heart of the NHS.
"This includes improving the way gender identity services work for transgender adults and appointing a National Adviser to lead improvements in LGBT healthcare. Since November, we have also launched the LGBT Health and Social Care Fund, which will provide £1m to tackle the health inequalities LGBT people face.
"Everyone in this country should feel safe, supported and happy to live their lives – and this includes accessing appropriate support and treatment from the NHS as and when they need it, regardless of their sexual orientation, race or gender identity."