Shots fired in downtown Vienna: one dead and another injured
Comments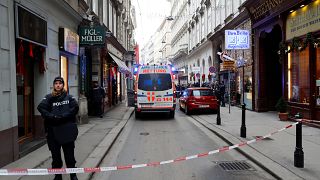 -
One person has died after shots were fired in downtown Vienna on Friday, according to reports. Another person is injured.
"Around 13.30, two people with gun wounds were found in Lugeck", the police said, adding that the suspect is a man. "It is likely to be a target crime", they said.
Lugeck is a touristy area in downtown Vienna. The police added that a manhunt was underway across the historic centre of the Austrian capital.
The shooting took place in an alleyway that houses Figlmueller, a restaurant popular with tourists.
"We can rule out a terrorist background," police spokesman Daniel Fuerst said.
The director of Figlmueller, Harald Prochazka, told daily Oesterreich's online TV channel that three people involved in the shooting ate at the restaurant beforehand.
"Everything was in order. They also left the restaurant calmly together," he said.
The area was cordoned off and police helicopters hovered overhead as part of the search. Police said that there was no danger to the public.
Locals posted photos of the police search on Twitter. One mentioned the restaurant Figlmuller as the scene of the shooting: