Opposition leader Jeremy Corbyn says he will table a vote of no confidence in British PM Theresa May
Comments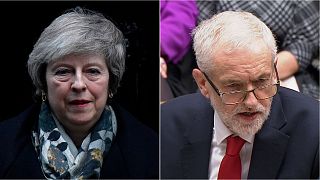 Opposition leader Jeremy Corbyn says he will table a vote of no confidence in British PM Theresa May over Brexit.
He told parliament the move was a bid to force a vote this week on the Brexit deal May has struck with Brussels.
Corbyn said: "The only way I can think of ensuring a vote takes place this week, I am about to table a motion which says the following: 'That this house has no confidence in the Prime Minister, due to her failure to allow the House of Commons to have a meaningful vote straightaway on the withdrawal agreement and framework for future relationships between the UK and the European Union.'"
Earlier May told MPs the vote — which was postponed last week — would not be held until the third week of January.
"Many members of this house are concerned that we need to take a decision soon," May told MPs in parliament. "We intend to return to the 'Meaningful Vote' debate in the week commencing seventh of January, and hold the vote the following week."
She warned British MPs to "reflect carefully on the best interests" of the country before voting on her deal, and added: "I know this is not everyone's perfect deal. But if we let the perfect be the enemy of good, we risk leaving the EU with no deal."
READ: Tony Blair on a second Brexit referendum: "The probability is, it's going to happen"
The British prime minister also ruled out holding a second referendum. Another vote, she said, would do "irreparable damage to the integrity" of UK politics: "It would say to millions who trusted in democracy, that our democracy does not deliver."
Britain's main opposition Labour Party said that May had only offered a date for a new vote on her Brexit deal because it had threatened to call for a motion of no confidence in her.
"We were due to vote on 11 December and there can be no further attempts to dodge accountability to parliament", Labour Party leader Jeremy Corbyn said. "There can be no logical reason for this delay, except that, in taking shambolic government to a new level, the prime minister no longer has the backing of her cabinet."
May survived a confidence vote brought by her own political party last week and then travelled to Brussels to seek last-minute changes to the Brexit agreement her government reached with the EU last month.
But the British PM still faces deadlock over her deal, which is not backed by enough MPs to pass a vote in parliament.
What's in Theresa May's Brexit deal and why is it so unpopular?
The EU refused to renegotiate the Brexit deal, only offering clarifications on what has been agreed, which led many British MPs to call for a second referendum. Some of May's ministers have proposed that parliament tests voting on different Brexit scenarios to avoid a new referendum, but there are no plans to hold such an indicative vote, a spokesperson for the British parliament has said.
The PM's refusal to replay the referendum increases the risk of Britain leaving the EU without a deal on March 29, a scenario that experts say could be catastrophic for the country.
The president of the European Commission, Jean-Claude Juncker, has said that the EU will step up preparations for a no-deal scenario.
The UK's continuing uncertainty over Brexit is already having an impact: data on Monday showed a drop in the country's consumer spending and falling house prices.