Katowice COP24 Notebook: spotlight on U.S. coal sideshow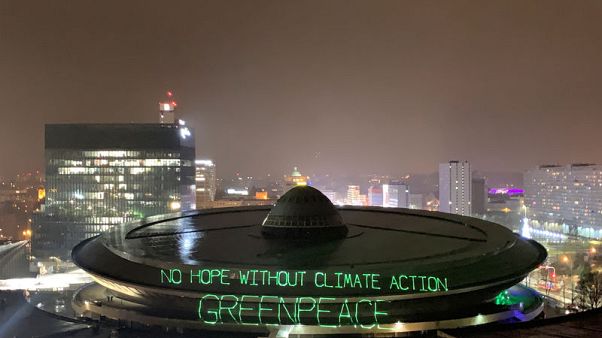 -
KATOWICE, Poland (Reuters) – Talks billed as the most important U.N. conference since the Paris 2015 deal on climate change enters the crucial final week in the Polish city of Katowice, the capital of the country's Silesian coal mining district.
The aim of the gathering is to meet an end-of-year deadline for agreeing a rule book on how to enforce action to limit further warming of the planet.
Below is a flavour of the mood around the event, held in a sprawl of temporary passageways and meeting rooms next to the "Spodek", a flying-saucer-shaped sports and concert venue.
MONDAY
1100 GMT – As ministers lock horns on the detail of the text, they might reflect on a statement issued overnight by global investors managing $32 trillion in assets who urged governments to accelerate steps to combat climate change.
https://reut.rs/2C23M6e
Separately, it would seem pressure on oil companies to tackle climate change is growing after an activist group for the first time filed a shareholder resolution urging BP to set hard targets for reducing overall carbon emissions.
Follow This, a Dutch organisation that spearheaded a number of climate shareholder resolutions at Royal Dutch Shell's AGMs over the past three years said it also filed one with the Anglo-Dutch company for 2019.
https://reut.rs/2Em0mO9
0900 GMT
Ministers from around 120 countries start to arrive at the conference and face the task of breaking deadlocks and divisions to achieve the political compromises needed by the end of the week.
On Saturday, negotiations tried to clean up a messy text to have a document ready for ministers to wrestle over in the second and final week of the conference.
Negotiators say there has been progress, but it is slow and, as ever, finance is a stumbling block. Parties also failed to reach an agreement on whether to "note" or "welcome" the U.N. IPCC report published in October. Saudi Arabia, Russia, the U.S. and Kuwait were against welcoming the report. Ultimately any reference to the IPCC report was removed.
A JUSTTRANSITION IN FRANCE
Campaigners in Katowice said another weekend of the violent "yellow vests" protests in France shows why a just transition is needed when shaping energy transition policy.
"When you look at the demands from the protests in France, it is not pitting climate policy against economic and social policy. It is saying (that) we need to respond to the anxieties people are feeling, the fear people are feeling," said Camilla Born, senior policy advisor at E3G, a non-governmental organisation, said.
French President Emmanuel Macron will address the country on Monday as he seeks to placate "yellow vest" anti-government protesters who wreaked havoc in Paris this weekend.
U.S. SIDEEVENT
A side event supported by the U.S. administration on Monday afternoon called "Innovative Technologies Spur Economic Dynamism" has been criticised by environmental groups and many countries.
"Since taking office, this administration has proposed to roll back measures to cut methane leaks from oil and gas operations, made it easier for companies to dump coal ash into drinking water, and just days ago proposed easing carbon pollution rules for new coal-fired power plants," said Dan Lashof, Director, World Resources Institute US.
"This sideshow in Poland would be laughable if the consequences of climate change weren't so deadly serious," he added.
The event will feature Wells Griffith, senior director for energy at the National Security Council and Steve Winberg, assistant secretary at the department of energy.
"Presentations at the event will show how innovation and investment have led to dramatically lower technology costs, reductions in all types of emissions, greater competitiveness, and access to affordable, modern energy services," said a senior U.S. administration official.
RECORDREGISTRATION
Although highly technical, negotiators say the Katowice talks are an essential follow-up to the Paris Agreement, which agreed on the aim of limiting global warming but did not provide rules on how to achieve that.
A U.N. spokesman said a record number — more than 32,800 — had registered to attend the conference.
(Reporting by Nina Chestney, Bate Felix and Agnieszka Barteczko; Editing by Matthew Mpoke Bigg)
euronews provides breaking news articles from reuters as a service to its readers, but does not edit the articles it publishes. Articles appear on euronews.com for a limited time.