Libertadores fan violence has damaged Argentina, says Boca coach
Comments
By Reuters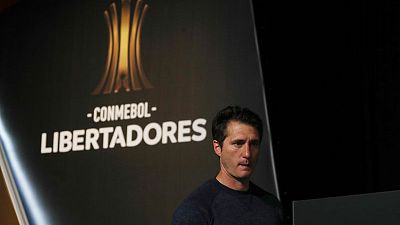 -
By Richard Martin
MADRID (Reuters) – Fan violence surrounding the Copa Libertadores final has damaged Argentina and South America and overshadowed the achievements of Argentine football, Boca Juniors coach Guillermo Barros Schelotto said on Friday.
Boca and fierce Argentine rivals River Plate will play each other in Madrid on Sunday in the second leg of the final of the Libertadores, South America's equivalent of the Champions League.
River drew 2-2 with arch-rivals Boca in the first leg on Nov. 11 but the return has been moved from Buenos Aires to Spain after Boca players were injured when fans attacked their team coach shortly before the match at River's Monumental stadium on Nov. 24.
With Madrid police mounting the biggest ever security operation for a football game in the city, attention has turned to the risk of violence between the two bitter Argentine rivals, with the match itself taking a back seat.
"Today we should be talking about how River and Boca are putting Argentina on the highest pedestal possible and instead we are talking about violence instead of what the teams have achieved this season," Schelotto told a news conference on Friday.
"Unfortunately, we haven't learnt from the same errors we have made before and we have ended up damaging Argentina and South America."
The attack on Boca's bus last month was far from an isolated incident in Argentine football, and recalled events from a 2015 Libertadores game between the two sides when River players were attacked with pepper spray.
Argentine campaign group 'Salvamos Al Futbol' (Save Football) says that a total of 328 people have died at football matches and 92 of those deaths have occurred in the last decade.
Schelotto said the fact that the game had to be moved to Europe should serve as a turning point in the fight to halt football violence.
"What happened two weeks ago happens a lot in Argentina and South America but I think it will have to change because if you cannot play Boca versus River in Argentina it's very worrying," said Schelotto, who won four Libertadores titles with Boca as a player.
"It's the right time to take measures and start to show an example. We need time, we need games of this quality to be played in Argentina or South America and to show that we have matured. It's the time to take measures and start to show an example."
(Reporting by Richard Martin; Editing by Toby Davis)